Vitamin C + Retinol – Are They the Keys to the Fountain of Youth?
Exploring the benefits of this anti-aging duo for firm, youthful skin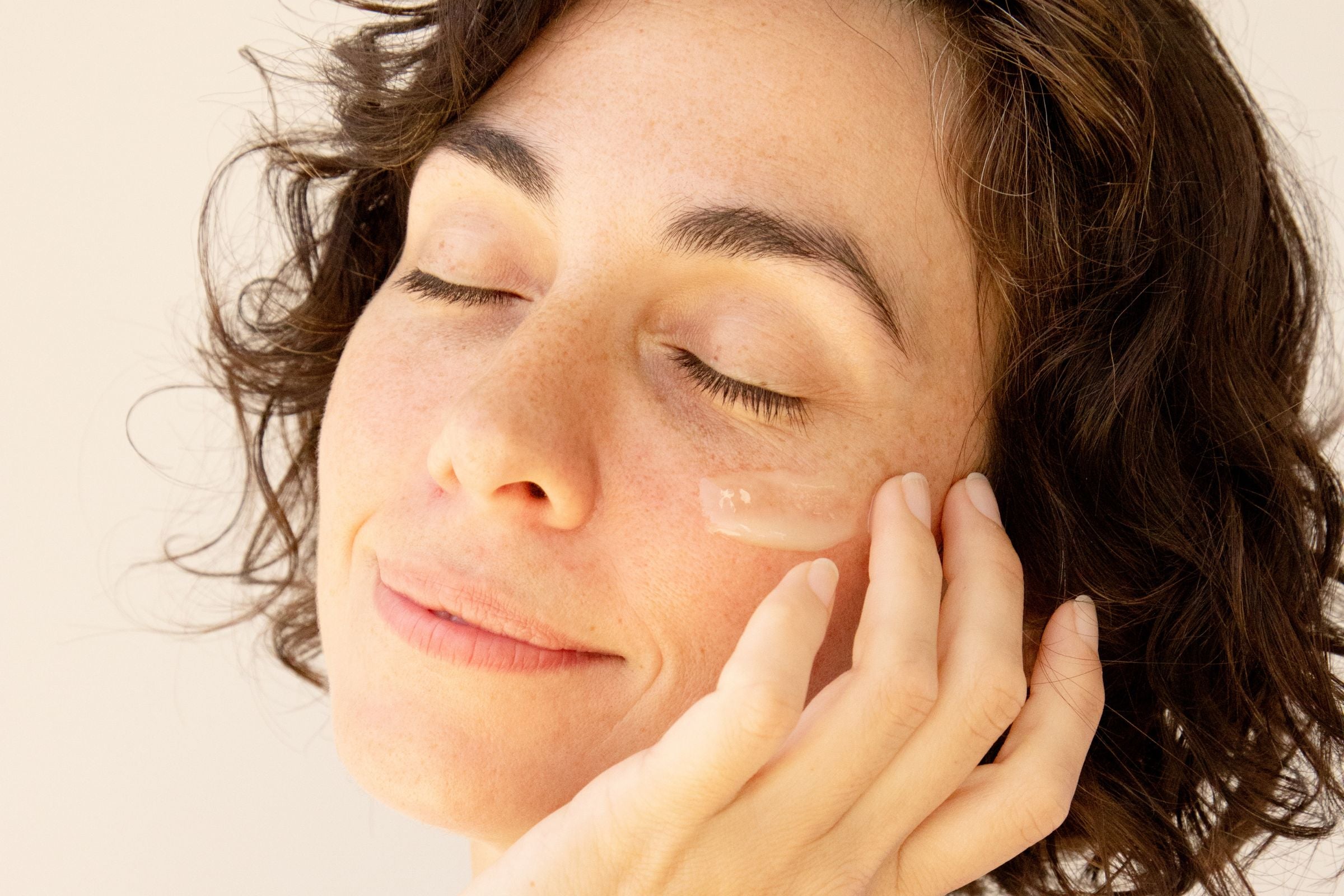 If we could dive into the Fountain of Youth, we imagine it would have many off-the-chart beauty benefits. But until we get our VIP access to that mythical fountain, we'll thank our lucky stars for two ingredients that offer youth-boosting benefits. Vitamin C and retinol are at the top of that gratitude list!
While you may have seen these anti-aging superstars used separately, there has been a rise in popularity using them together. Find out the benefits of each of these skin care A-listers and how to safely use this power couple for a firmer, more youthful complexion.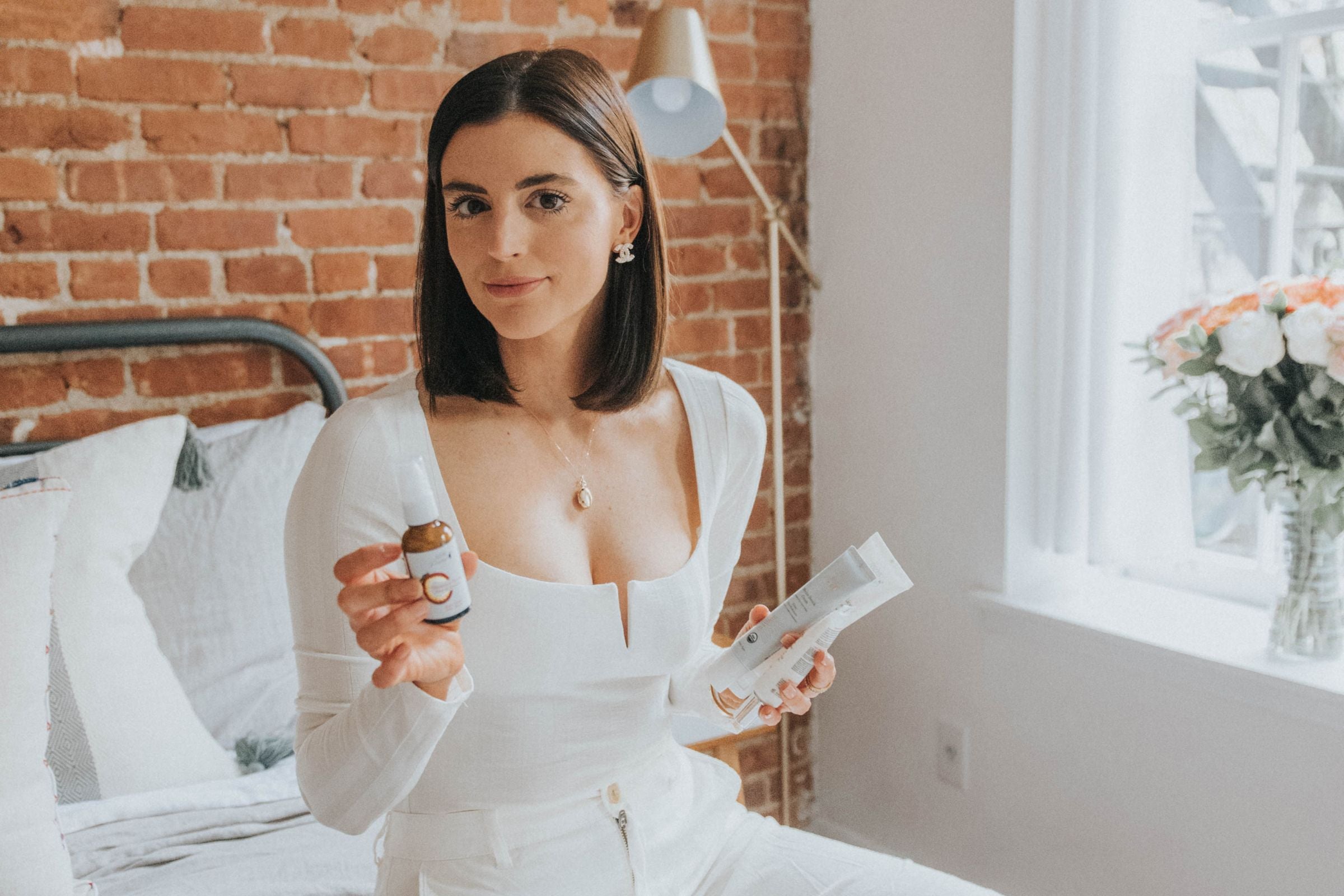 Skin Benefits of Vitamin C
Anti-aging ingredients come and go, but there's one contender that is the industry's gold standard for brighter skin and busting dark spots. If you guessed vitamin C, you've earned an A-plus! While vitamin C has a unique status as an anti-aging superstar, it's the only collagen stimulator that also boasts powerful antioxidant properties and a broad spectrum of benefits.
Without further ado, let's dive right into the skin benefits of this extra special vitamin C-lebrity!
Boosts collagen production
Collagen is a necessary protein for firm, youthful skin. One of the most prominent features of vitamin C is its ability to encourage collagen production in the skin, thus fighting against wrinkles and keeping your skin plump. Collagen production slows down when we reach about thirty years old, but don't stress – vitamin C can help our bodies produce more.
Helps maintain elasticity
With vitamin C's superpowers at encouraging collagen production, it also helps maintain elasticity while repairing tissue damage. So the fact that vitamin C can help encourage this type of synthesis makes it especially popular as an ingredient in anti-aging products.
Prevents and diminishes dark spots
Age spots, melasma, sun spots, acne scars… we want all of them gone. Vitamin C decreases melanin formation and protects against UV damage. If you don't have any spots yet, this citrus celeb can help keep them away. Vitamin C is a powerful antioxidant that fights against free radical damage and related hyperpigmentation, helping to keep your skin spot-free.
Brightens the complexion
We all want a healthy glow that makes us look youthful and refreshed. The high antioxidant potential in vitamin C means healthier skin cell function and better moisture retention for glowing skin. In addition to enlivening skin with its antioxidant properties, vitamin C also enhances a brighter complexion.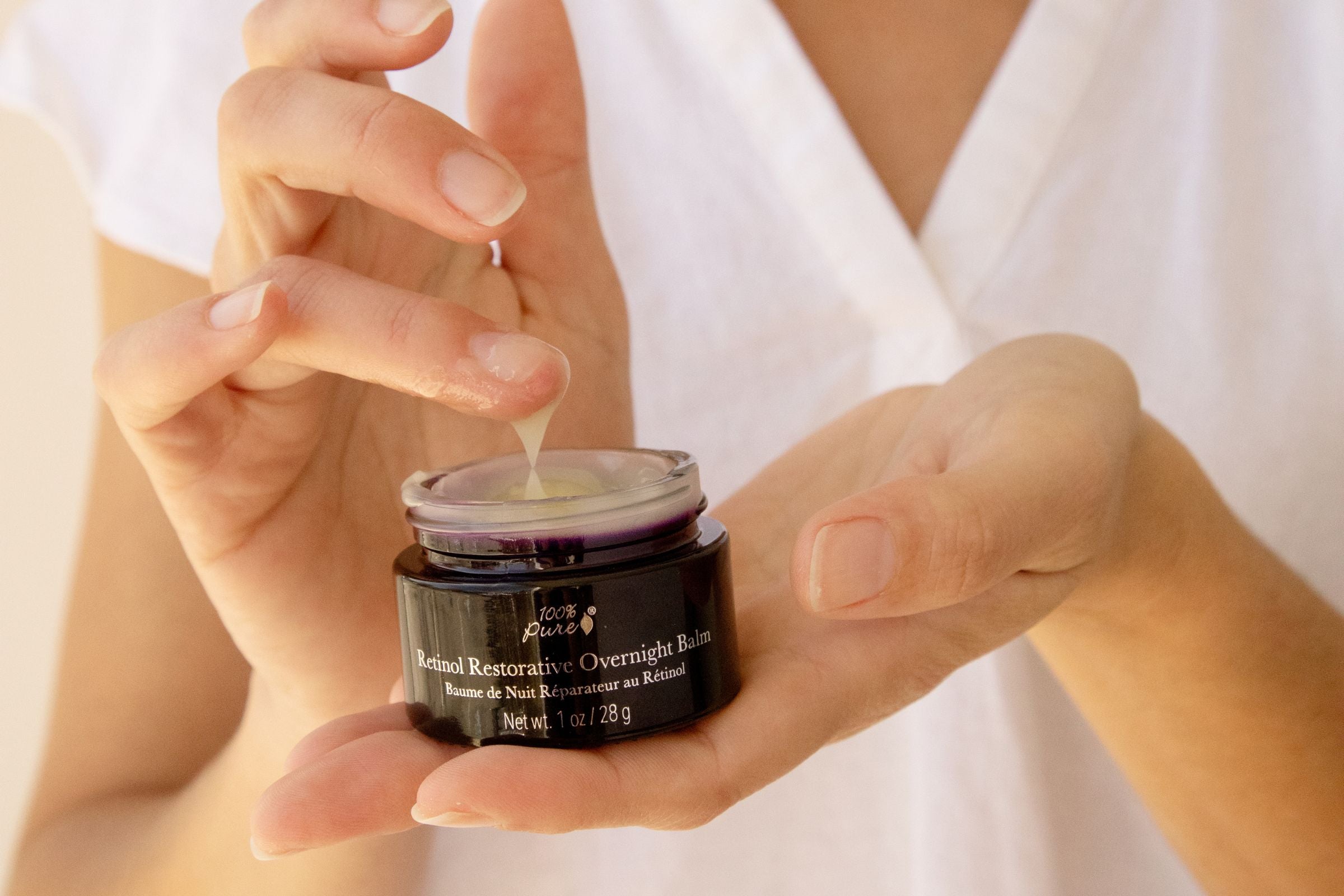 Skin Benefits of Retinol
Before we get down to the 'fine lines' of this anti-aging superstar, let's talk about which forms of retinol are safe for your skin, and which should be avoided.
Retinol is a preformed vitamin A found in animal-derived ingredients called retinoids – and is something we avoid. Vegan retinol, by contrast, are synthetic forms of retinol. These are the potent ingredients in our anti-aging treatments, among other naturally occurring vitamin A enhancers.
When applied topically, retinol has tons of impressive skin-boosting benefits to improve skin's texture and tone. Let's check them out!
Increases cell turnover
Retinol stimulates skin cell turnover, which in simplest forms means new skin, faster. It sloughs away dead skin layers, making them divide faster and die faster, so newer, healthier cells and skin can take their place. This also helps to lift stubborn blockages and debris from deep within pores. The result is a reduction of wrinkles, fine lines, and visible pores.
Enhances collagen production
Retinol is a pro-collagen topical treatment that aids in smoothing and rejuvenating the outermost layers of our skin, resulting in less texture and more glow. It keeps our skin plump and juicy so that we can look our freshest and most fabulous.
Evens skin tone and texture
Since retinol aids in skin cell turnover, this is perfect for those of us looking to fade melasma and dark spots, giving skin a smoother texture and a more youthful appearance. Retinol's exfoliating effect means dull and dry skin can roll out the red carpet for newer, brighter, and more even-toned skin.
Helps clear acne
Since retinol helps to promote cell turnover, which sloughs away dead skin and unclogs pores, this, in turn can kill acne-causing bacteria. Plus, keeping dead skin cells packing can help to keep pores clear and open so other products or topical acne treatments can penetrate the skin more effectively.
The Benefits of a Vitamin C + Retinol Skincare Duo
We've got some juicy gossip about the hottest summer fling – Vitamin C and retinol! We know these two ingredients are both popular anti-aging stars on the skincare scene, especially when it comes to lessening aging concerns and dark spots.
Since we've been touting the benefits of each, it's time to get to the real hot topic: Can you use retinol and vitamin C together? The most cut-dry answer to this is, that it depends. It is contingent on when and how you use your vitamin C and retinol. As with any great beauty accessories – especially retinol – there are a few precautions that come with the territory.
If you'd like to choose the path of least 'resistance' or irritation – or have dry or sensitive skin – it's best to start one day at a time and slowly introduce the other every few nights since a bit of peeling and flaking of the skin can occur. Do this until you get used to it or can comfortably say it's not irritating when combined. But if you have a plan in place to deal with the potential of flaking and irritation from retinol, then you may be fine to use vitamin C and retinol together.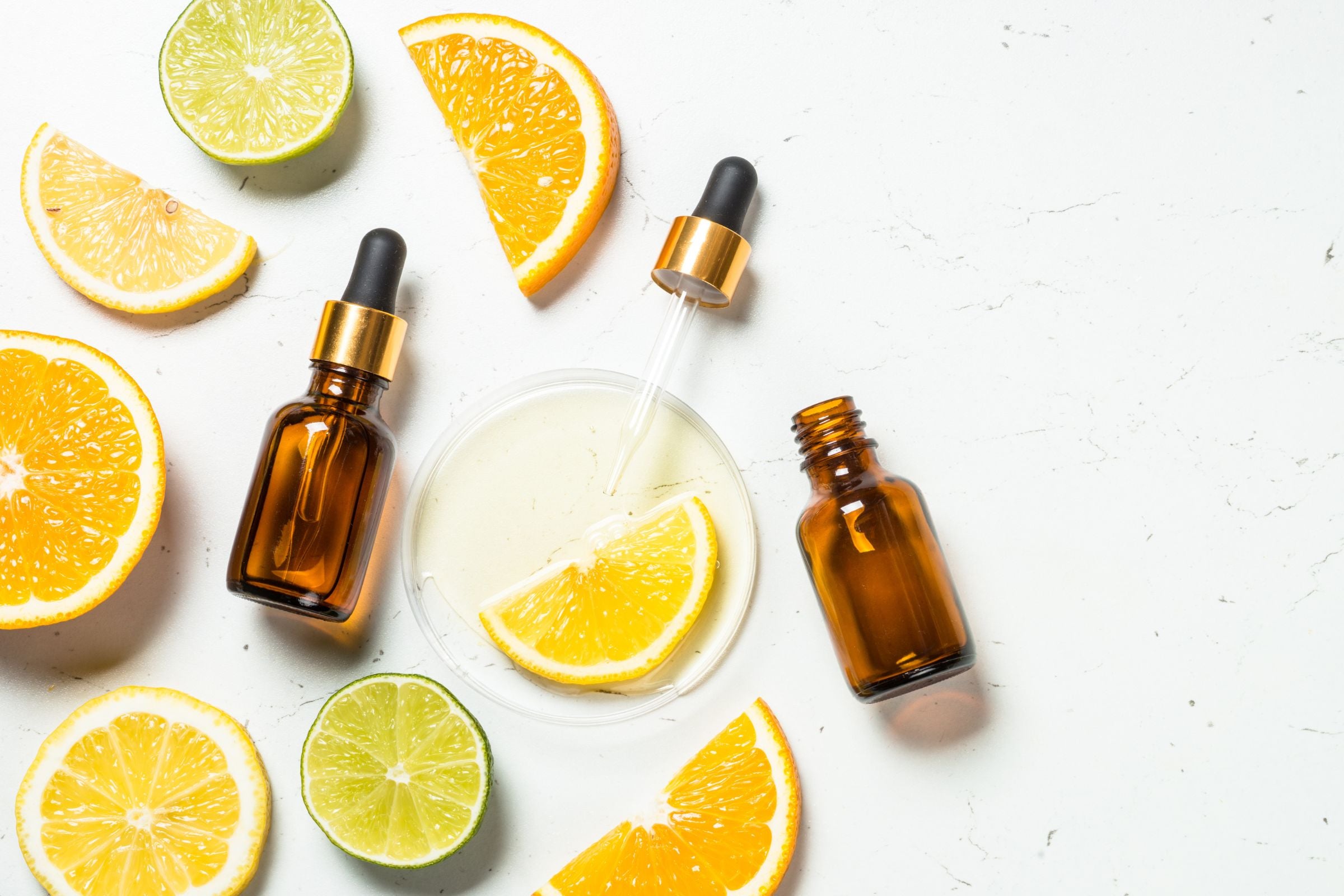 Vitamin C and Retinol Duo to Add to Your Skin Care Routine
This anti-aging and brightening power couple are the perfect combination to help you achieve a youthful and supple glow. Speaking of a dynamic duo, our natural Vitamin C Serum is safe for all skin types (even sensitive skin). It's a must-have in the quest for reduced fine lines and wrinkles, pores, and discoloration.
For the full anti-aging experience, apply the skin-softening Retinol Restorative Overnight Balm. Luxurious avocado and shea butter nourish skin while you sleep, while soft scents of jasmine lull you into the realms of dreamland. Beta carotene from carrot seeds enhances firmness and diminishes fine lines. Let's just say our vitamin C serum and retinol balm make an impressive centerpiece in any nightly skincare routine.
Whether you use retinol and vitamin C together at the same time or choose to integrate the powerful ingredients one at a time till you build tolerance, your skin will still land in the limelight for youthful, smoother, and brighter skin. We know the broad spectrum of benefits from each of these skin all-stars. So the added value from pairing this dynamic duo well…is the closest thing you might find to that fountain of youth.
We carefully hand-select products based on strict purity standards, and only recommend products we feel meet this criteria. 100% PURE™ may earn a small commission for products purchased through affiliate links.
The information in this article is for educational use, and not intended to substitute professional medical advice, diagnosis, or treatment and should not be used as such.