The 8 Best Eye Creams of 2022
We spy, with our little eye, something that is eye-dyllic for your delicate eye area. If you guessed an eye cream, you're half way to youthful peepers. The other half is adding some pep to your step and peepers with an ingredient sent from the brew-ti-ful heavens: caffeine!
We know a caffeinated beverage can help us to function and play nice with others, but caffeine affects your skin, too. That's right – the magical ingredient is steaming hot with eye benefits! It's time to send your eye bags packing and reduce dark circles with the best caffeine eye creams.
Why Are You Getting Puffy Under Eyes or Dark Circles?
Eyes are the windows to the soul, and sometimes they have a hard time keeping the truth. Our "Lyin' Eyes" give away dirty little secrets like irregular sleep cycles, bad bedtime habits, and even allergies. But we don't need to go hard on ourselves because puffiness (or eye bags) and discoloration in the under-eye area can happen to anyone!
Sometimes these issues pop up, seemingly without cause, and go away with a little more shut-eye. Other times, these eye-opening problems can be a bit more difficult to correct. Before we talk about how to get rid of puffy under eyes and dark circles with caffeine, let's talk about a few of the things that cause them.
AGING
Aging can play a huge role in affecting the appearance of the eyes. Over time, the muscles in our face grow weaker; this includes those that support our eye area. Along with subsequent migration of fatty tissue in and around the eye area, these two factors can create the appearance of puffy or swollen looking eyes.
GENETICS
In some cases, the shape of our eyes or simply our genetics can contribute to puffy under eyes. Those with genetic puffy eyes might regularly wake up with swelling around the eye area as early as the teenage years.
ALLERGIES
In the same category of causes that are out of our control, allergies can also be a major trigger of puffy eyes. You'll also experience itchy eyes and red eyes, leading to even more inflammation. While some allergy treatments and eye drops can help, certain seasons can make this type of puffiness tough to beat.
(BAD) HABITS
For those of us who stay up late and/or get up early, that lack of sleep isn't a friend to perky looking eyes. Those midnight romantic movie marathons – you know, the tearjerkers? – those aren't helping either. What's worse is that smoking, alcohol, fried and salty foods, or a generally imbalanced diet can all contribute to a puffy eye area.
These types of puffy under eyes or dark "panda eyes" can occur at random or with regularity depending on our habits and lifestyle. Fortunately, while all of these issues seem hard to combat, our secret ingredient, hint, caffeine, doesn't care about allergies or genetics, just results. It's caffeine!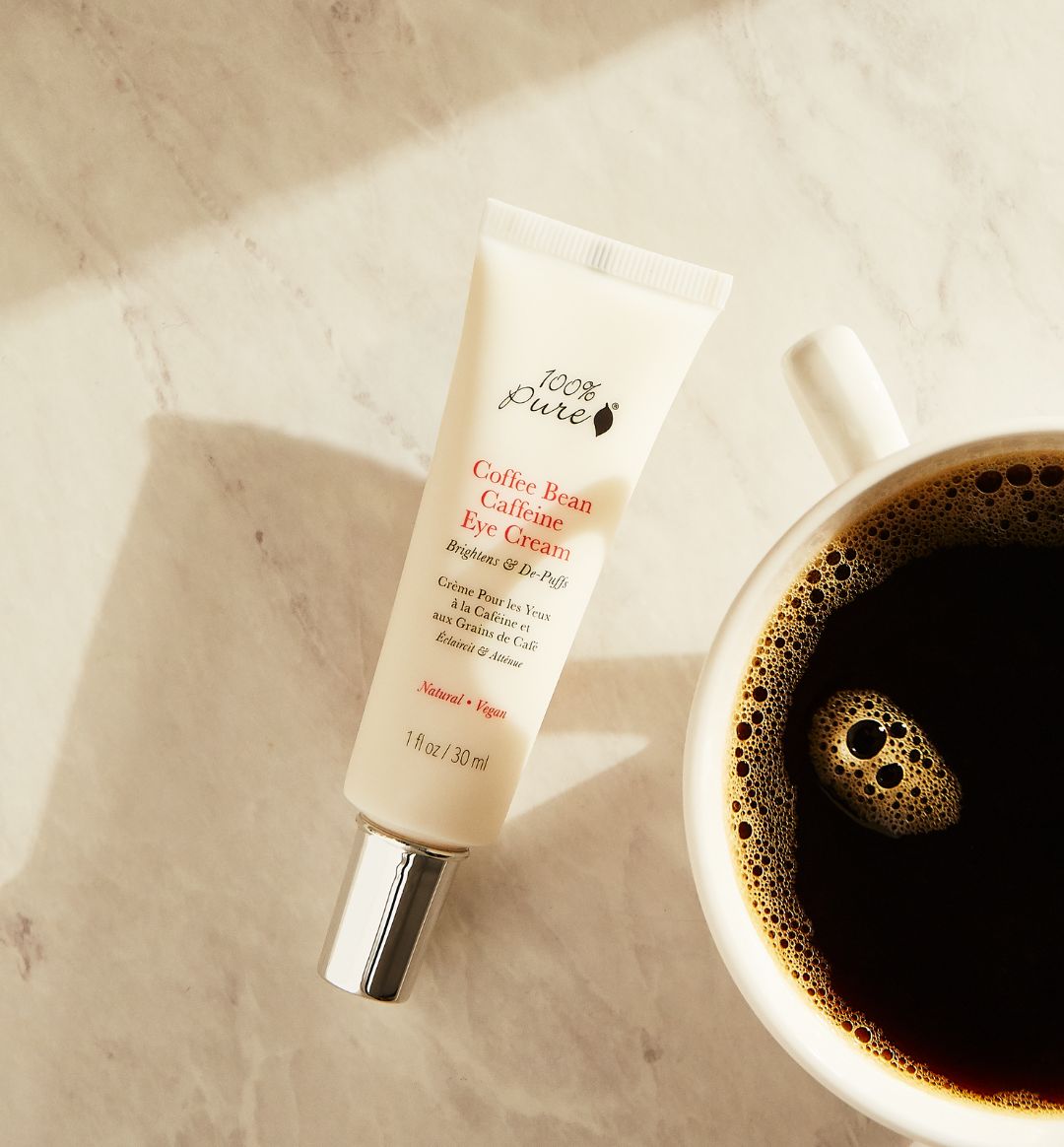 Is Caffeine Good for Under Eyes?
There's a total consensus about caffeine's proven ability to de-puff eyes and fight those dark shadows the morning after a sleepless night. "Eye bags" or puffiness under your eyes are really just a buildup of fluid beneath the skin that's especially noticeable in the eye area because of the thinness and fragility of the skin in your under-eye area there.
Caffeine stimulates microcirculation to alleviate dark circles, and also constricts blood vessels under the skin, effectively de-puffing the area. On top of these puff-busting benefits, caffeine can also protect under eye skin from sun damage by blocking UV rays, effectively warding off eye area hyperpigmentation that can exacerbate the look of dark circles.
Is Caffeine Good for an Eye Cream?
Did you wake up this morning with bags under your eyes? Dark circles and puffiness got you feeling like a prize fighter at the end of the twelfth round? This best-selling natural eye cream is here to save the day! As we all know (too well), fatigue is the most common cause of dark circles under the eyes.
Other common causes could be dehydration or overconsumption of sodium, caffeine, or alcohol. If you've heard the dreaded words "you look tired today" ("thanks, I didn't realize!") more than you care to count, it's time to bring your eye area inflammation down and reduce dark circles so you don't have to deal with that.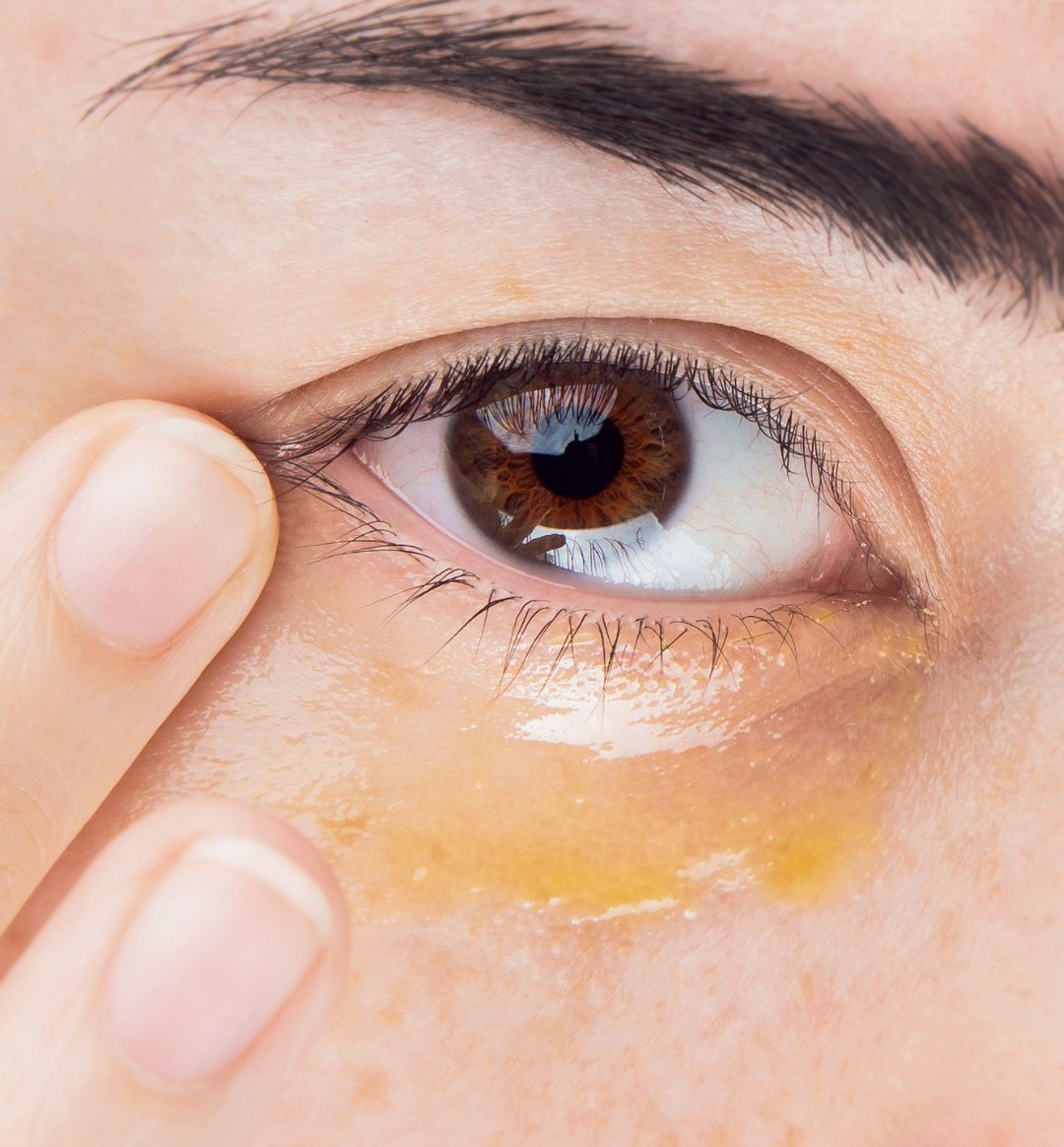 The 8 Best Eye Creams of 2022
Want to know which eye cream can keep the area under your eyes looking their best and brightest? You've come to the right place! We've managed to round up our favorite natural eye creams that are as good to your eyes as they are your skin.
Without further ado, check out our top 8 eye creams of 2022 with eye-opening benefits that have our stamp of approval!
#1. Coffee Bean Eye Cream
For all skin types
Do you frequently wake up with more bags under your eyes than a purse outlet store? Our Coffee Bean Eye Cream features a triple dose of stimulating, natural caffeine content and lessens the fluid retention which causes puffiness. Nourishing vitamin E and rosehip oil deeply nourish delicate, dehydrated skin for added softness.
If you've been searching high and low for a pick-me-up for your skin, look no further than our best-selling, new moisturizer sure to be a cult favorite like our coffee eye cream: our Coffee Bean Face Cream! That's right! Our devoted eye cream fans begged for a face cream version – and we delivered! Featuring perks like tightening and brightening skin, plus protecting against aging culprits, this skin miracle worker will give your complexion an immediate healthy, vibrant glow!
#2. Retinol PM Eye Cream
For mature skin types or eyes showing signs of ge
While physicists and Cher still search for a way to turn back time, we're glad to settle for a potent game-changer eye cream! Enter our Retinol PM Eye Cream, a natural eye cream night treatment for lessening signs of aging around the eyes. This formula uses a vegan, pleasant source of retinol to boost collagen and renew thinning under eye skin.
#3. Super Fruit Eye Cream
For all skin types, especially dry skin types
Although age is nothing but a number, why sport tired eyes when you can zap them with the power of a natural eye cream? Enter our Super Fruit Oil Nourishing Eye Cream – a dual-action formula featuring nourishing super fruit oils and healthy phytonutrients that help repair and protect your precious skin, while smoothing away fine lines and flakey, dry skin.
#4. Multi-Vitamin + Antioxidants PM Eye Treatment
For normal, dry, oily, combination skin types
Slip into your pj's and get your sleeping mask ready. Our Multi-Vitamin + Antioxidants PM Eye Treatment is a no-nonsense addition to your nighttime skin care routine. This ultra-concentrated gem with multiple vitamins and antioxidants is designed to lessen the appearance of fine lines and wrinkles. It promotes both collagen and elastin production for firmer, more youthful skin around the eye area.
#5. Tammy Fender Awakening Eye Gel
For all skin types, especially dry skin types
Do you find yourself waking up to tired eyes, even when you had a full night's rest? Time to waken those precious peepers with the Tammy Fender Awakening Eye Gel. This super-nourishing, emollient eye gel is great for all skin types, and especially sensitive skin tissues.
Featuring a myriad of organic plant remedies used in ancient European herbal traditions, this soothing eye gel quenches thirsty eyes and helps blur fine lines and wrinkles. The light, silky finish works well both under other skin care products and makeup, or worn alone.
#6. Osea Firming Eye Cream
For all skin types
Are you ready for youthful-looking eyes? Right this way with Osea Firming Eye Cream! This high-performance hydrator starring the plant-derived amino acid DPHP, helps plump and firm the delicate eye area, plus instantly smooths the appearance of fine lines and wrinkles without feeling greasy.
This targeted eye cream is enriched with squalane to replenish moisture, and Gigartina seaweed to nourish the eyes, while locking in essential moisture and delivering anti-aging benefits where they're needed most.
#7. True Botanicals Resurrection Radiance Eye Cream
For all skin types
Perk-up those sleepy under eyes with True Botanicals Resurrection Radiance Eye Cream! This brightening eye cream features a bioactive moisture retention complex from the resurrection plant to help intensely moisturize and dramatically reduce the appearance of dark circles, fine lines and wrinkles.
This innovative eye cream also stars an antioxidant-rich blend of turmeric, coffee, and licorice, to instantly depuff and brighten the 360° eye area to deliver youthful-looking, radiant eyes. Plus, it's hypoallergenic and ophthalmologist tested.
#8. Indie Lee Restorative Eye Cream
For all skin types, including dry, mature, sensitive, blemish-prone, combination and normal
An eye cream with immediate results – yes, please! Indie Lee Restorative Eye Cream is a powerhouse double stem cell eye cream for rapid results. Tiger Grass & Apple Stem Cells pair with Paracress extract to help reduce the appearance of fine lines and diminish visible signs of aging.
Conditioning seaweed extract and licorice root promote brighter, plumper, more youthful looking skin. This lightweight, nourishing eye cream is vegan, gluten-free and powered by nature!
To ensure our eyes are presenting their best selves, it's important to give the delicate eye area the TLC it needs and deserves with a caffeine eye cream. By adding an effective eye cream with this perky ingredient to your daily (and nightly) regimen, you can say goodeye to signs of aging and exhaustion and be on your way to achieving more rested, youthful peppy peepers!
We carefully hand-select products based on strict purity standards, and only recommend products we feel meet this criteria. 100% PURE™ may earn a small commission for products purchased through affiliate links.
The information in this article is for educational use, and not intended to substitute professional medical advice, diagnosis, or treatment and should not be used as such.