Our All NEW Watermelon + Cucumber Trio Is The New Skincare Must-Have
Why You Need To Add Our New Polyglutamic Acid and Hyaluronic Acid Rich Collection To Your Skincare Regimen Stat!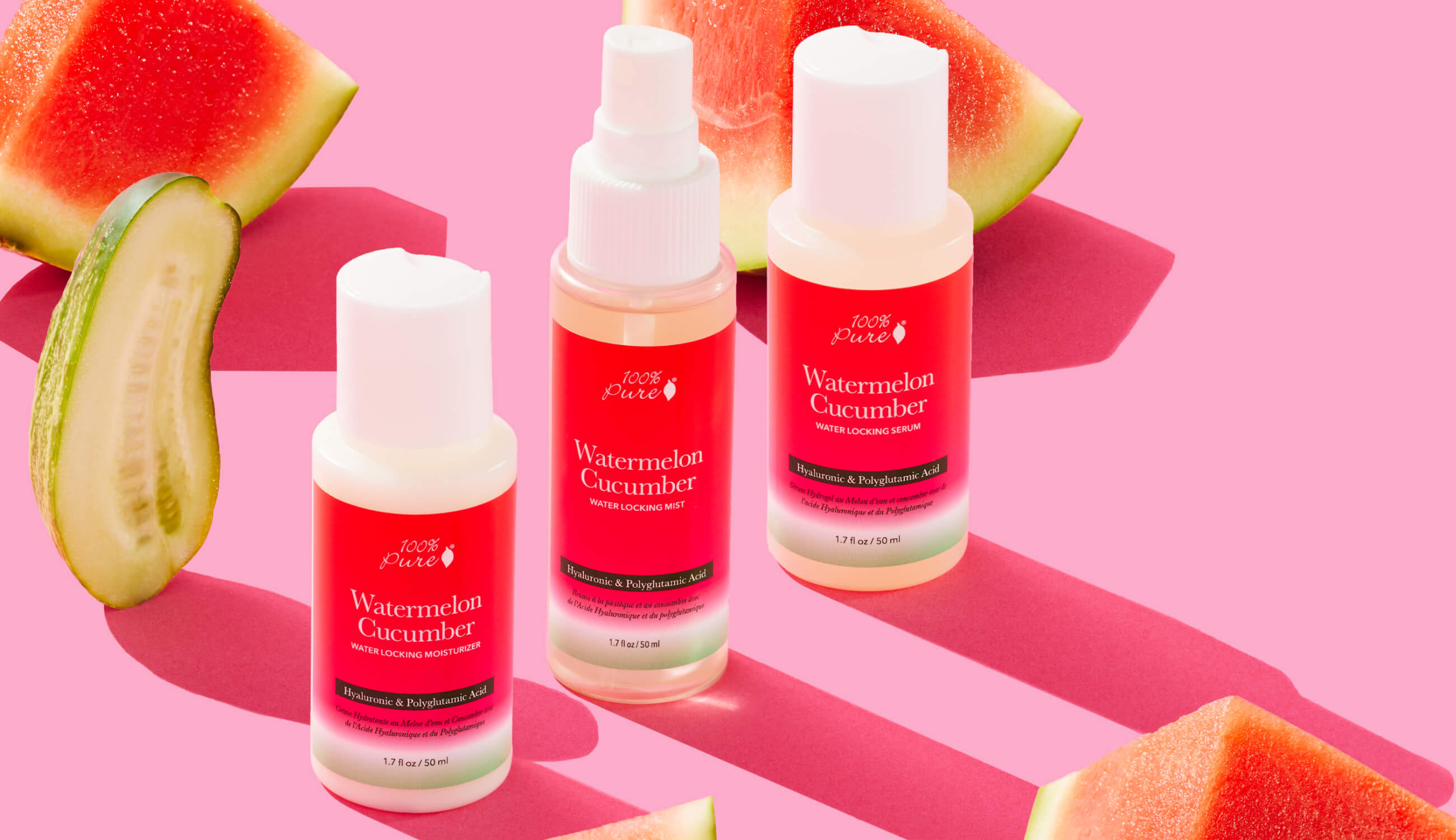 Meet our NEW Watermelon + Cucumber Skincare Trio. Powered by the new power couple of clean skincare ingredients – polyglutamic acid from natto beans and hyaluronic acid from sweet potatoes – our new water locking serum, moisturizer, and mist combines watermelon hydrosol and cucumber hydrosol to help restore, soothe, and cool skin while also locking in moisture for hydration that lasts.
Our Watermelon + Cucumber Trio is entirely vegan, cruelty-free, paraben-free, and non-toxic because our Co-Founder, Susie Wang, and her team of PhD scientists are committed to sourcing only the purest, non-synthetic ingredients. The base for our water locking moisturizer is organic aloe vera juice, and the base for our serum and mist consists of watermelon hydrosol and cucumber hydrosol. Also including polyglutamic acid to visibly reduce lines and wrinkles, hyaluronic acid to improve moisture retention, Irish moss extract, and olive squalene to repair and nourish dry skin, the soothing ingredients in this skincare trio will leave your skin feeling moisturized and nourished without feeling greasy.
This intensely hydrating skincare trio smells like fresh watermelon and cucumber infused water on a warm summer day. Here's a rundown of the key ingredients powering the trio and each of its unique products.
All three products in our Watermelon + Cucumber Skincare Trio contain:
Polyglutamic Acid
Polyglutamic acid is a humectant skincare ingredient. A humectant is designed to address skin hydration by not only preserving the existing moisture in the skin and diminishing escaping moisture, but also by drawing moisture from the environment to keep the skin hydrated longer.
One of the most popular humectants used in clean skincare is hyaluronic acid, and polyglutamic acid is shown to be a slightly superior alternative. Polyglutamic acid restores skin elasticity, and visibly reduces lines and wrinkles. Derived from natto beans (a type of fermented soybean), this highly-beneficial, cruelty-free ingredient conditions, moisturizes, smooths, and soothes skin while helping to lock in moisture to achieve lasting hydration.
Polyglutamic acid is one of the most effective humectants out there, and it has become an essential part of many skincare routines. The first reason polyglutamic acid makes such a difference with skincare is the textural repair we can achieve with this ingredient. Like we mentioned before, one of the main benefits of polyglutamic acid comes from diminishing skin texture, like the appearance of pores and fine lines. Polyglutamic acid helps to blur away that texture and restore elasticity for smoother, more supple and juicy, bouncy skin.
Finally, and truly, the most critical differentiator between polyglutamic acid and other humectants, is that while another skin hydration option like hyaluronic acid is effective, it's already native to the skin and skin cell structure. Naturally occurring in the body, it's used in skincare from a supplementary standpoint, but when we add polyglutamic acid to our skincare routine, we're giving our skin a benefit that it wouldn't have access to naturally. Because it's got a greater capacity for hydration than HA (which is already pretty high), it simply takes first place.
Hyaluronic Acid
Hyaluronic acid is another humectant that is an incredible moisture booster for the skin. Sourced from sweet potatoes, our hyaluronic acid is not only moisturizing, but also helps to preserve existing moisture and draw in additional moisture. All this while improving our skin's tone, texture, and clarity, supporting collagen and elasticity, and fortifying our skin's moisture barrier as well.
Adding this popular humectant to your skincare routine is a must especially if you want to improve your skin texture and skin tone and soothe skin inflammation. Paired with the superior polyglutamic acid your skin is in for long lasting hydration and a glow that everyone will be jealous of!
Watermelon Hydrosol
Hydrosols are the aromatic water remaining after an essential oil is distilled by steam. They contain micro-molecules of essential oils and strengthen the surface immunity of skin. Hydrosols are a gentler version of essential oils — with a higher water content, and are perfect for sensitive skin. Among its many uses we've incorporated Watermelon Hydrosol, a product of the steam distillation of Watermelon fruit, into this skincare trio due to its emollient and moisturizing action and its antioxidant and anti-aging properties.
Watermelon hydrosol is not only soothing for the skin but is also rich with lycopene to restore sun damage and intensely hydrating to promote cell regeneration.
Cucumber Hydrosol
Since cucumber is mainly made up of water it is an ideal plant for hydrosol distillation. Our aromatic Cucumber Hydrosol delivers a fresh and soothing burst of hydration to nourish and condition skin while cooling skin to reduce inflammation.
Cucumber naturally has conditioning properties guaranteed to reduce excessive oil on your skin, alleviate sunburn to reveal glowing skin and reduce fine lines for a flawless complexion.
How To Use the Trio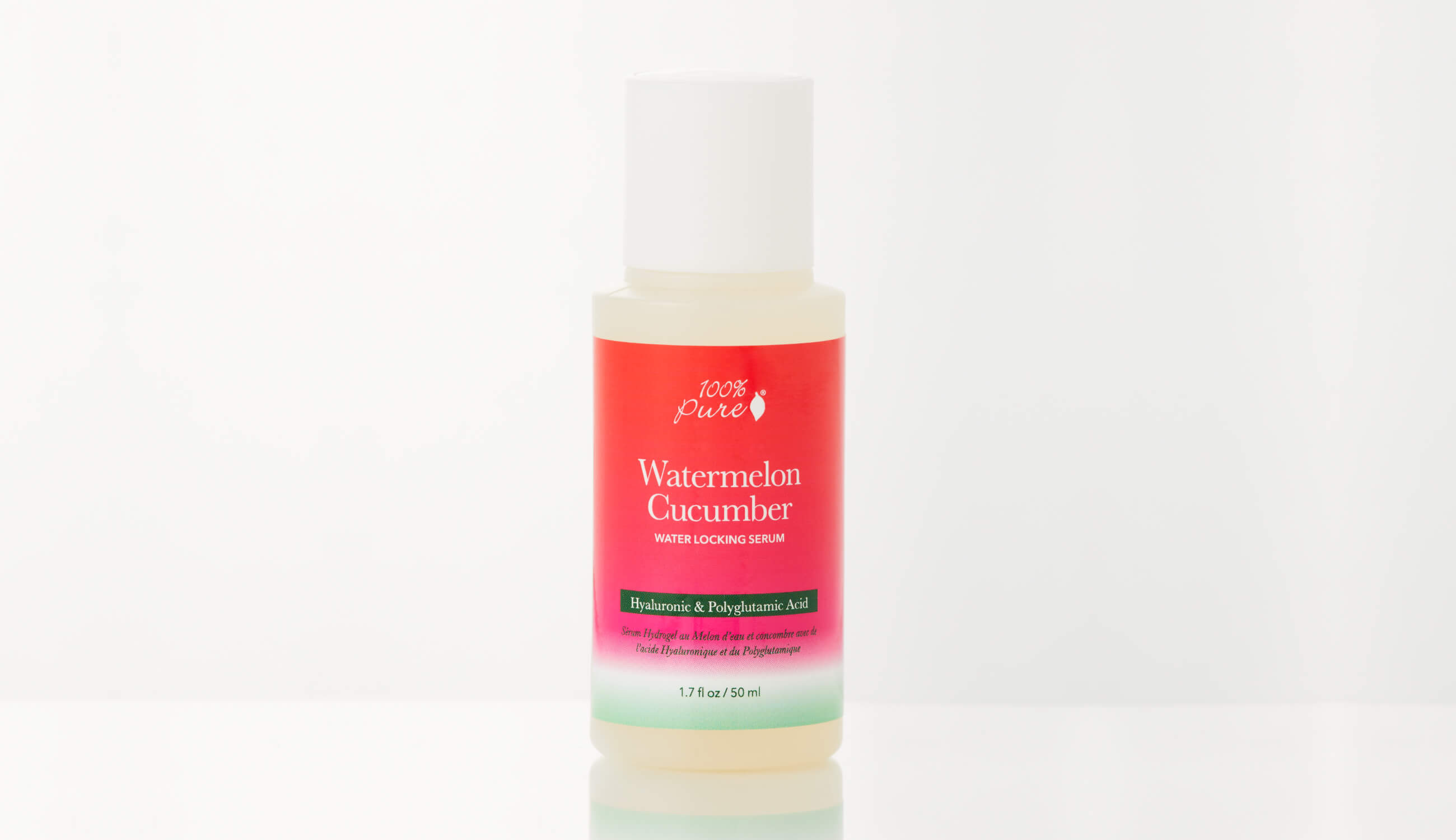 Step 1: Hydrate Your Skin with Watermelon + Cucumber Water Locking Serum
Gently press the Watermelon Cucumber Water Locking Serum into damp skin and allow it to fully absorb.
Our intensely hydrating hydrogel serum locks in watermelon hydrosol to revitalize dehydrated skin cells with skin plumping polyglutamic acid from fermented natto beans and moisture retaining hyaluronic acid – and also contains:
Unique Ingredient
Rice Ceramide
Phytoceramides are plant-based ceramides, often made from sweet potatoes, rice bran and wheat, and can still be completely gluten-free. Ceramides are lipids (fats) that are found naturally in high concentrations in the uppermost layers of skin.
Plant-based ceramides help restore your skin's protective barrier function by reinforcing its lipid content. This allows for better hydration and protection against environmental stressors like UV rays and other potential irritants. They also help maintain the right balance of lipids on your skin, which helps reduce the appearance of fine lines and wrinkles.
Rice ceramide helps soothe redness-prone or compromised skin with its anti-inflammatory properties while also improving its overall appearance with moisturizing benefits and a reduction in fine lines and wrinkles.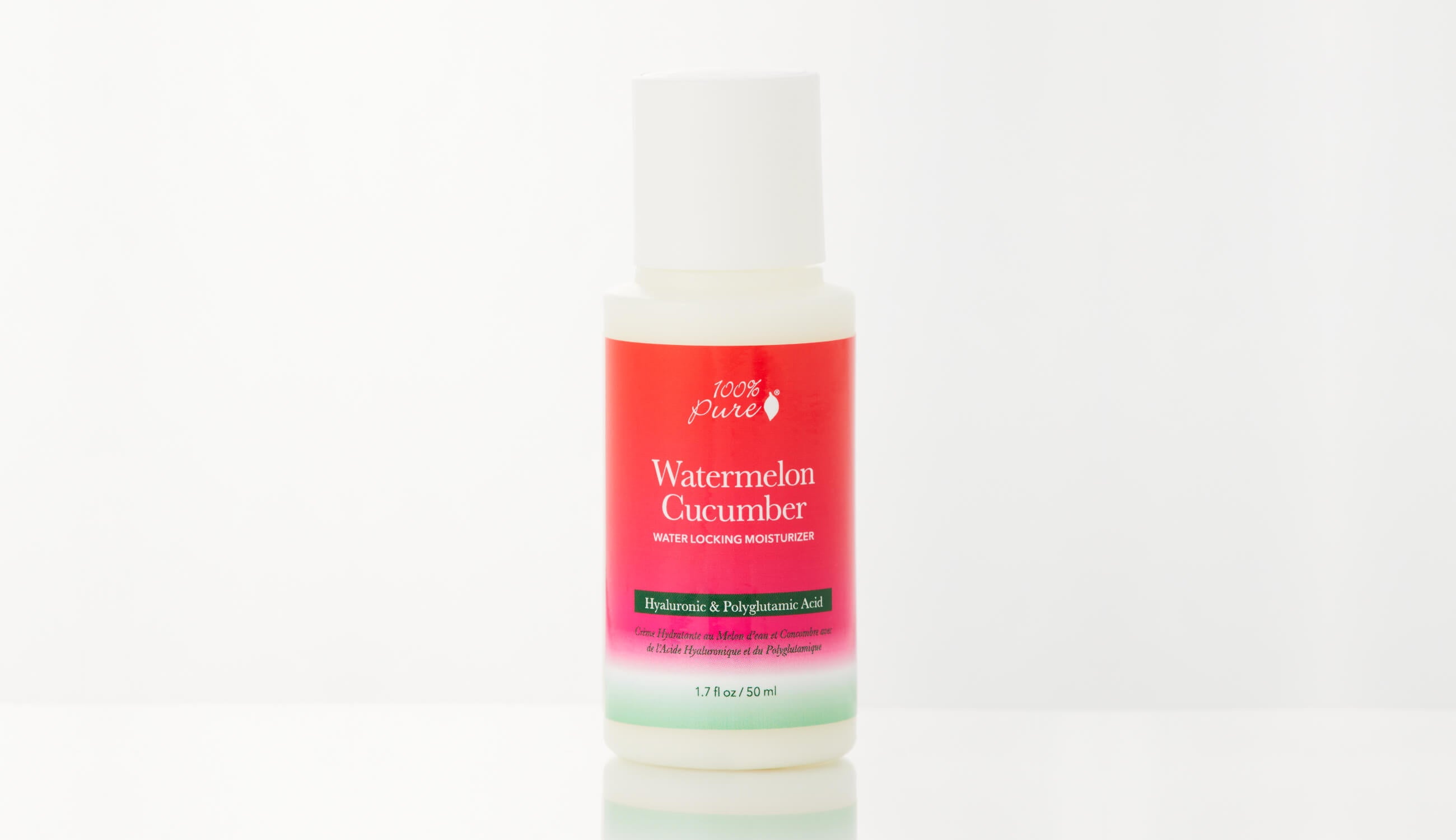 Step 2: Soften and Nourish with Watermelon + Cucumber Water Locking Moisturizer
Apply a quarter sized amount of the Watermelon Cucumber Water Locking Moisturizer to the face and neck. Gently massage and press into skin, taking care not to pull or tug.
Our hydrating moisturizer locks in watermelon hydrosol and polyglutamic acid to naturally restore skin elasticity, promote cell regeneration and reduce signs of aging – and also contains:
Unique Ingredients
Irish Moss Extract
Irish Moss is a type of red algae that has many benefits for the skin. It moisturizes, softens, and smooths skin; it soothes irritated skin; it can help reduce transepidermal water loss (TEWL); and sea moss-based products can also help protect and provide protein for your skin.
Irish Moss Extract forms a protective layer that helps lock in moisture. This makes it an even better humectant than hyaluronic acid when used topically. Additionally, Irish Moss Extract has special moisturizing properties and contains high amounts of polysaccharides (also known as carrageenans), which is a thickening agent that forms a protective-yet-breathable film over the skin.
Sea moss-based products can also help reduce transepidermal water loss (TEWL) which refers to water that rises up from your dermis, through your epidermis, and evaporates into the air. Reducing TEWL helps keep your skin plump and moist—making Irish Moss Extract an effective anti-aging ingredient!
Sodium Hyaluronate
Sodium hyaluronate is a salt that's derived from hyaluronic acid, and it has an incredibly hydrating effect on your skin.
As a humectant, sodium hyaluronate pulls in water from the air and helps to retain moisture to keep your skin hydrated and flake-free, while also helping to restore and maintain a healthy barrier to prevent transepidermal water loss (TEWL), which can lead to inflammatory conditions.
Sodium hyaluronate also works to replace lost moisture and hyaluronic acid naturally found in the skin that lessens with age. This added hydration helps to further smooth skin texture and visibly reduce fine lines and wrinkles.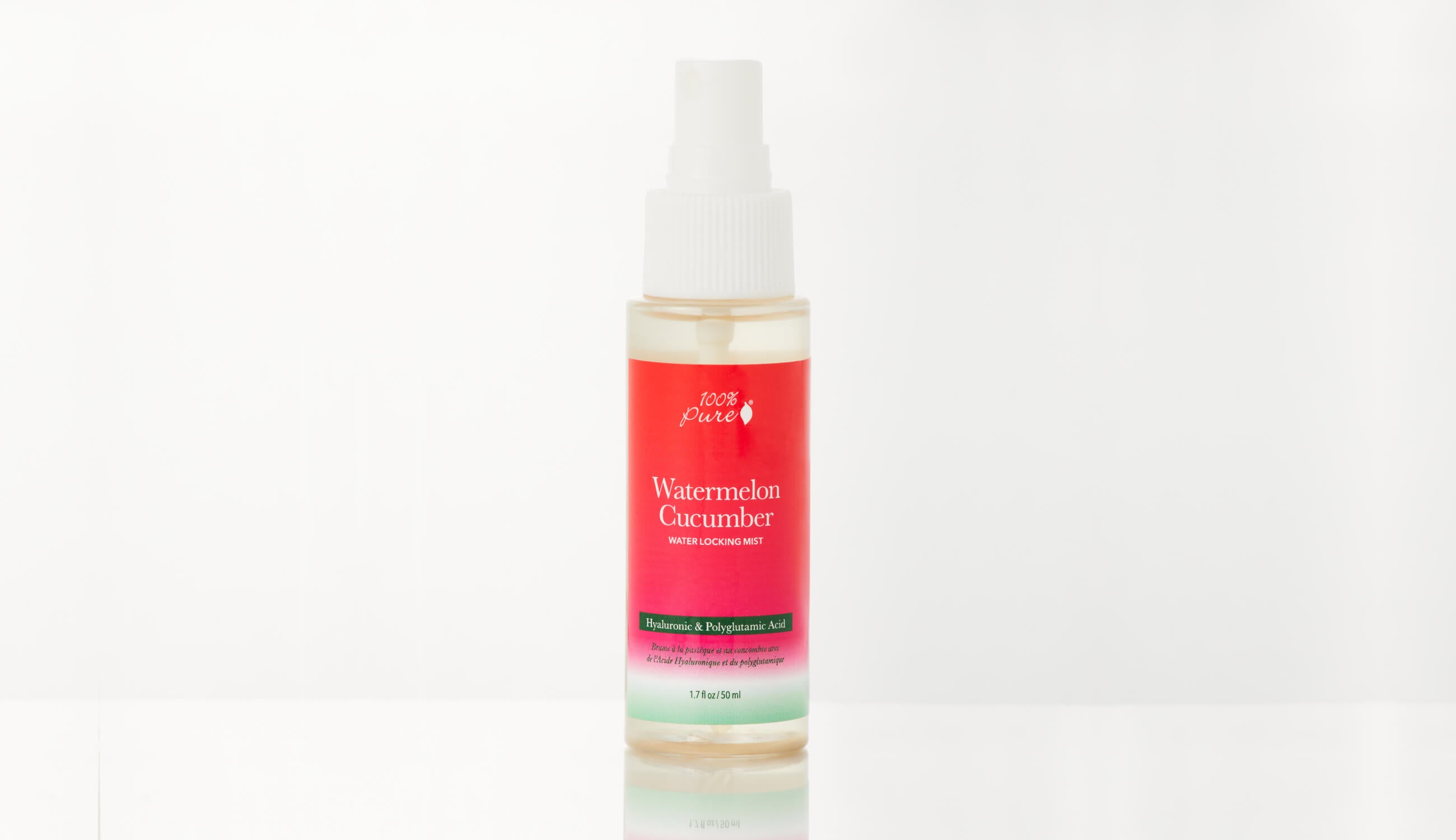 Step 3: Lock In The Moisture with Watermelon + Cucumber Water Locking Mist
Spray the Watermelon Cucumber Water Locking Mist onto freshly cleansed skin for an instant hydration boost. Can also be used throughout the day to quench dry skin.
Our ultra hydrating water mist naturally reinvigorates dehydrated skin cells and reduces signs of aging by locking in cactus juice, watermelon hydrosol, and hyaluronic acid – and contains:
Unique Ingredient
Olive Squalene
Olive squalene is a cruelty-free, plant-based alternative to squalene harvested from sharks.
Squalene is a naturally occurring antioxidant compound that is found in varying amounts in both animal and plant sources. It is classified as a triterpene hydrocarbon (highly unsaturated), and is a natural lipid that is a major intermediate in the biosynthesis of cholesterol in the liver.
In nature, the highest levels of squalene can be found among olives, sharks, liver oil, wheat germ and rice bran. The main animal source of squalene is sourced from certain deep-sea shark varieties.
Olive Squalene can help repair dry, rough skin by moisturizing and softening it while also soothing redness or irritation caused by sensitive skin. It leaves you with a moisturized yet non-greasy feel – perfect for everyday use!
Try our ultra hydrating, long lasting Watermelon + Cucumber Skincare Trio to plump, reduces signs of aging, and lock in moisture like never before through the combined power of polyglutamic acid, hyaluronic acid, watermelon hydrosol, and cucumber hydrosol.
We carefully hand-select products based on strict purity standards, and only recommend products we feel meet this criteria. 100% PURE™ may earn a small commission for products purchased through affiliate links.
The information in this article is for educational use, and not intended to substitute professional medical advice, diagnosis, or treatment and should not be used as such.