How to Choose the Right Serum
The breakdown on which treatment is best for your skin type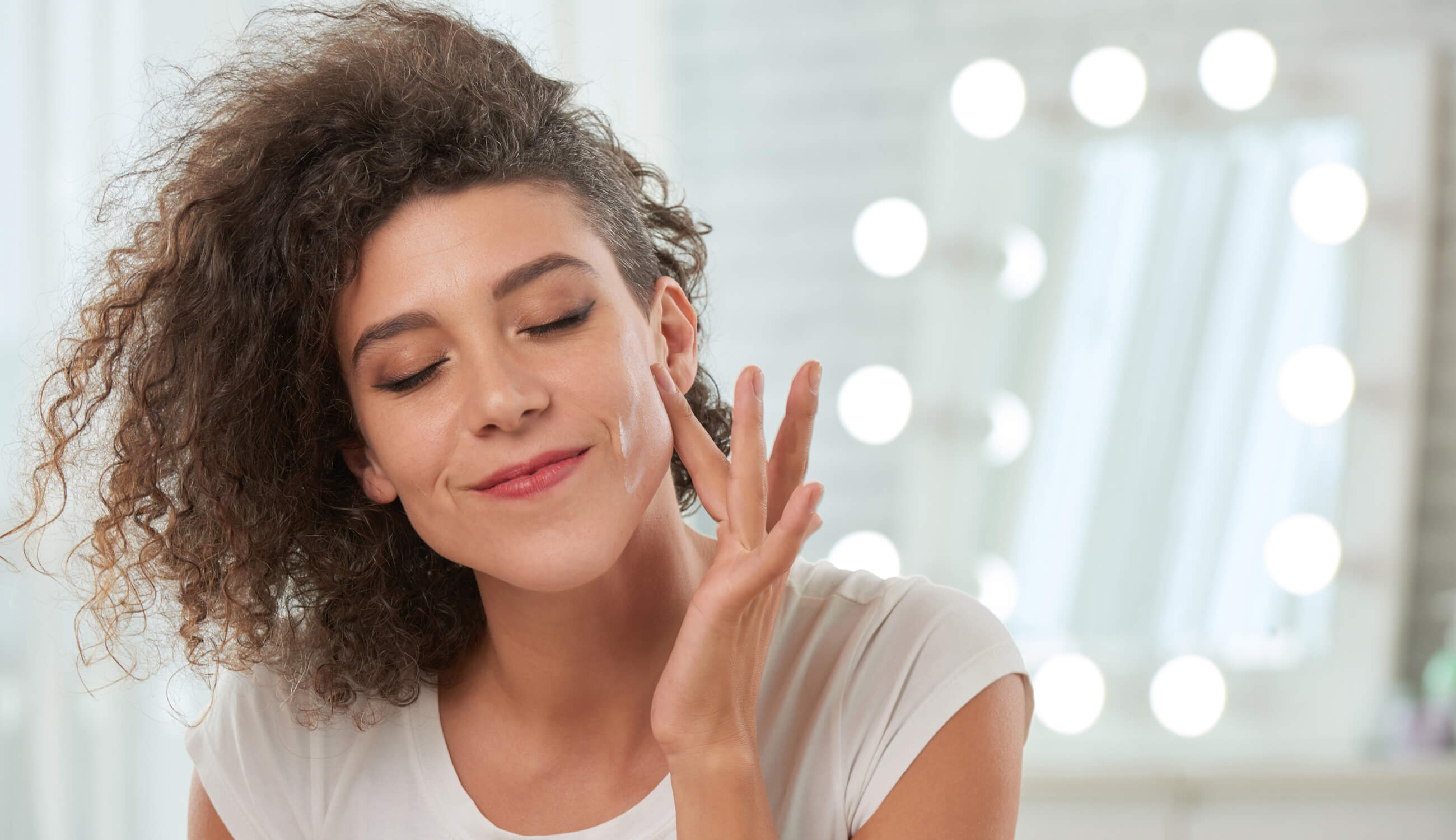 Wondering how to fast-track results with your skin care routine? Here's our little secret: implement a serum after you tone, and before you apply your moisturizer. Specifically designed to deeply infiltrate the deepest layer of skin, serums are made for people who are serious about getting targeted, specific results.
A high quality serum should be formulated to hydrate all skin types, while delivering targeted nutrients based on your needs. Not sure what you're looking for in a serum? You'll know it when you see it – keep reading to find the best serum for your skin type!
Our natural serums are carefully formulated with a smaller molecule size, to better deliver complex nutrients through the skin's surface. We use a nano-spinning method during formulation, which is our answer to avoiding synthetic polymers found in the majority of products on the market today. During the nano-spinning phase, the molecules in our natural serums are slowly minimized, until they are small enough to be easily absorbed into the deepest layers of skin.
No matter which serum formula you choose, you're guaranteed a healthy dose of hydration from hyaluronic acid or aloe juice. The ones meant for intensive hydration (beneficial for dry or aging skin types) will contain hyaluronic acid, which can hold and deliver up to 1,000 times its weight in water deep into the skin. The smaller molecule size in our polymer-free, silicone-free serum formulas is what makes them able to hydrate skin from within for a more sustained, healthy glow.
Each of our expertly stabilized serums is customized by 100% PURE founder Susie Wang. Made with natural, high potency active ingredients, these facial serums are ready to hydrate and moisturize while delivering much needed nutrients deep into your skin. Time to dive in!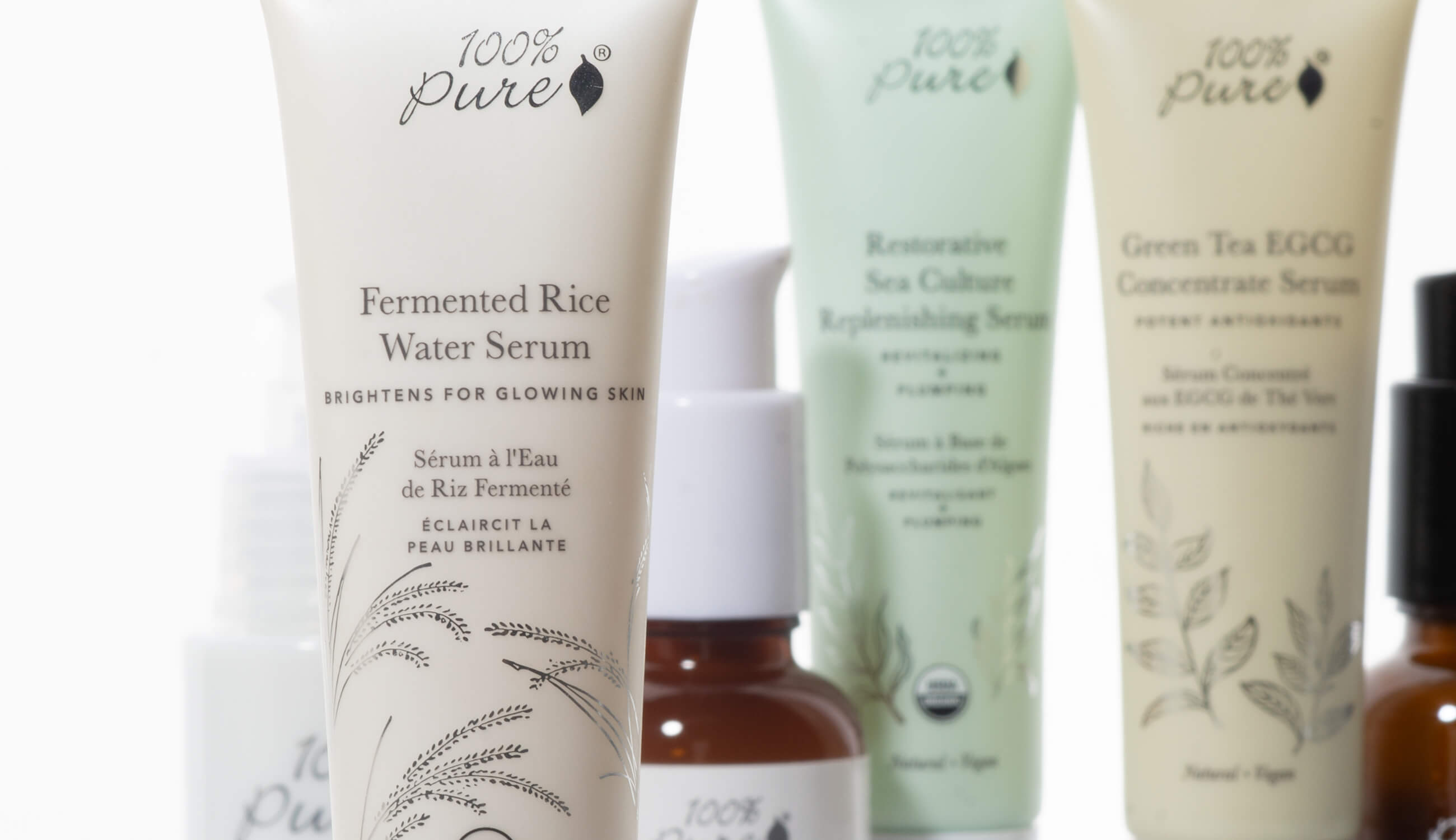 SKIN TYPES: Normal, dry, oily, combination, dull, aging, acne-prone
Key Ingredients: Sake, Bearberry, Shiitake Mushroom
When to Use It:☀️🌙
Looking to perk up your complexion? This skin-illuminating serum is made with our most comprehensive mix of natural skin-lightening ingredients. The goal here is to get glowing skin that looks and feels more youthful, with the added benefit of plumping hydration.
Japanese sake is the key ingredient here, and brings with it ferulic, malic, and kojic acids to delay signs of aging, even skin tone, and stimulate cell turnover with gentle exfoliation. Natural skin lighteners niacinamide, shiitake mushroom, licorice, and bearberry arbutin can also be found in this powerhouse formula. Scented with purifying essential oils like bergamot citrus, vetiver grass, and blood orange.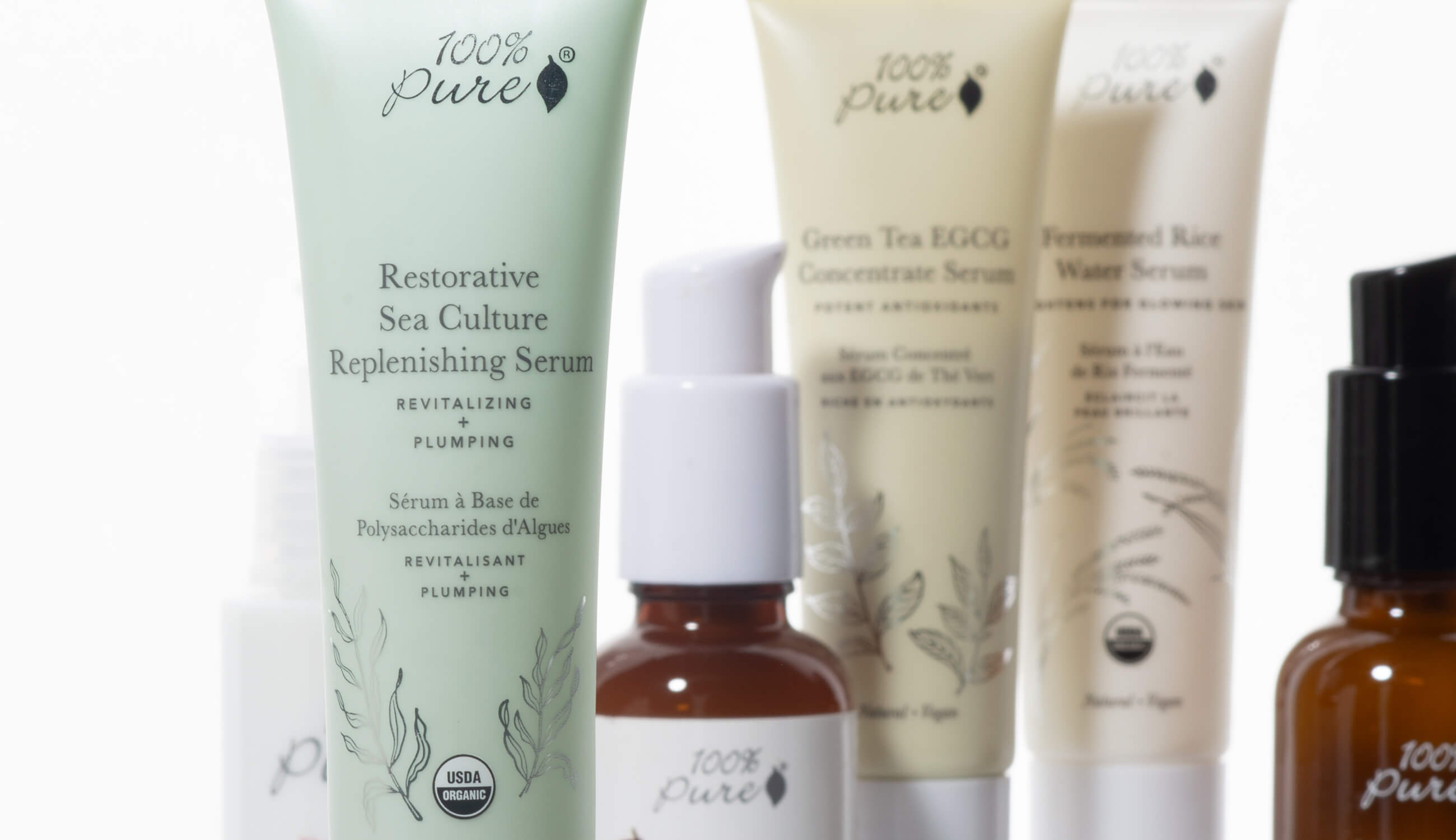 SKIN TYPES: Dry, normal, sensitive, aging, combo
Key Ingredients: Chia, Hyaluronic Acid, Algae
When to Use It:☀️🌙
All hail the best serum for dry skin! For dry skin types, sometimes a moisturizer just won't cut it – that's where hydration serums come into play. Using ingredients like hyaluronic acid is the most effective way to hydrate dry skin (or any skin type) from within for longer lasting suppleness and hydration.
Chia gel water, sea kelp, and algae also aid in water absorption with their gelatinous texture, and yeast ferment detoxifies and helps to cycle out aging skin cells. This super hydrating serum is also a great option for aging skin, to keep it looking youthful and plump by supporting water retention in skin's lipid barrier. Scented with purifying essential oils like cedarwood, sage, and lavender.
SKIN TYPES: Normal, dry, oily, combo, aging, acne-prone
Key Ingredients: Green Tea EGCG, Goji Berry, Yerba Mate
When to Use It:☀️🌙
This formula is truly a skin care superhero, since it caters to many different skin types. A polyphenol of green tea, EGCG contains interleukin-12, a protein that can repair cellular DNA, and is even used in cancer therapy to boost the immune system. When applied topically in a deep penetrating facial serum, EGCG can also reduce inflammation and free radical damage from sun exposure, and delay UV-related signs of aging.
Goji berries and acai are added to this serum to double down on anti-aging antioxidant power, and to brighten the complexion with vitamin C. Both goji and caffeine-rich yerba mate support healthy collagen production, which can increase firmness and elasticity while lessening fine lines and wrinkles.
Caffeine content from both green tea and yerba mate helps to depuff, improve skin circulation, and stimulate blood flow for a more vibrant, awakened complexion. Green tea and the fatty acid content in yerba mate are also useful for cutting down on excess oil, making this a great serum for oily skin types. Scented with purifying essential oils like bergamot citrus, blood orange, and lavender.
PRO TIP: Spend a lot of time outdoors? This facial serum is the ultimate partner to your daily SPF, with its high concentration of ultra potent, protective antioxidants.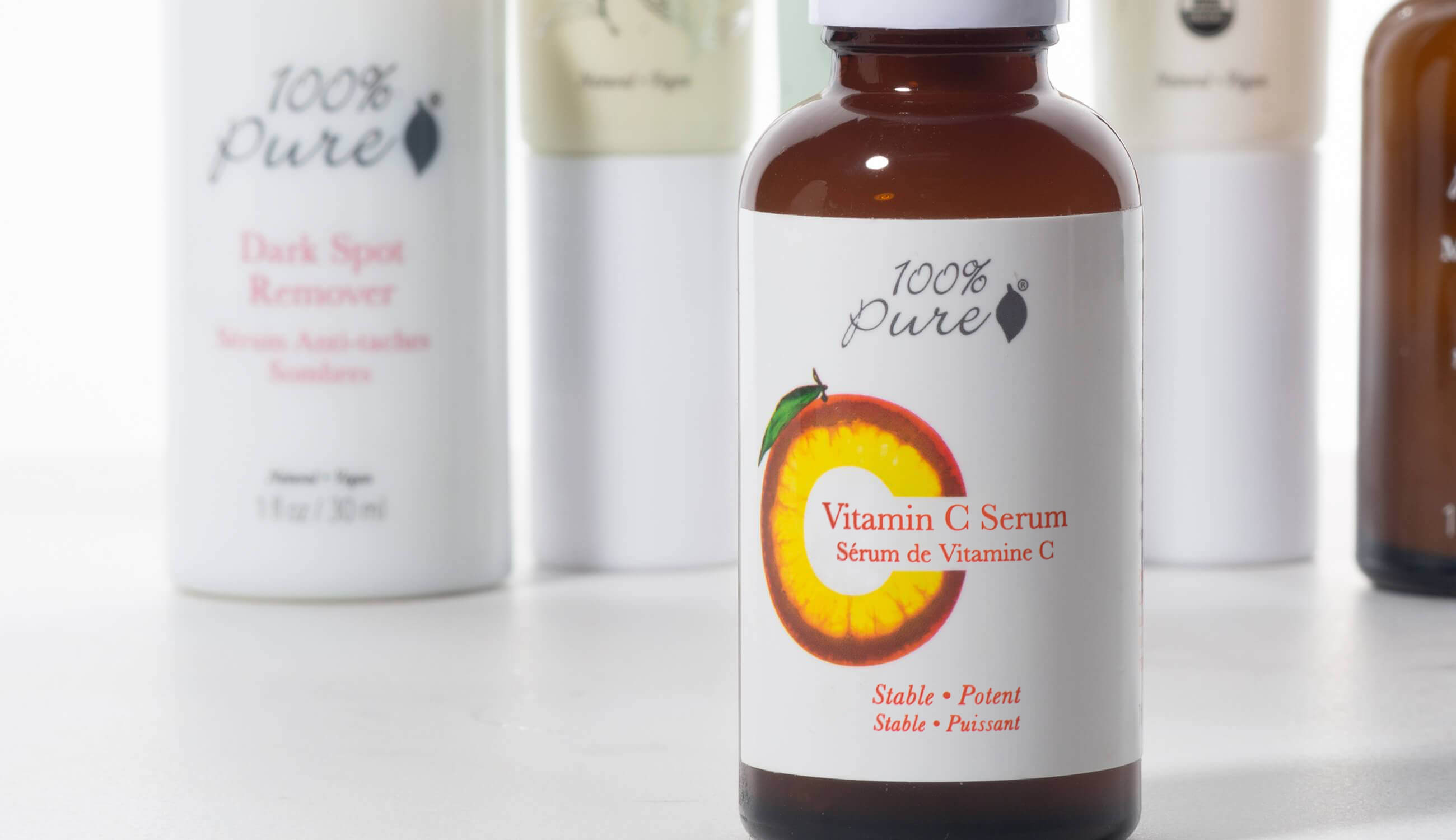 SKIN TYPES: All skin types – especially dull, dry, or aging
Key Ingredients: Aloe Gel, Vitamin C, Alpha Lipoic Acid
When to Use It:☀️🌙
Finding the perfect vitamin C serum can be tough. It should restore skin to its former, glowy glory – but without the unnecessary fillers. Our natural formula means business when it comes to promoting collagen production and illuminating skin from within.
Made in a base of cooling aloe gel, our super lightweight Vitamin C Serum is non-sticky and fast-absorbing. It contains Magnesium Ascorbyl Phosphate, grape, and green apple – three major sources of skin-brightening vitamin C. Don't forget alpha lipoic acid (ALA): an antioxidant which fights oxidative damage that prematurely ages or darkens the skin. This serum isn't scented with essential oils, but has a light scent or refreshing aloe.
PRO TIP: Always apply a natural sunscreen over your vitamin C serum during the day, and for sensitive skin types: limit your vitamin C treatments to nighttime only.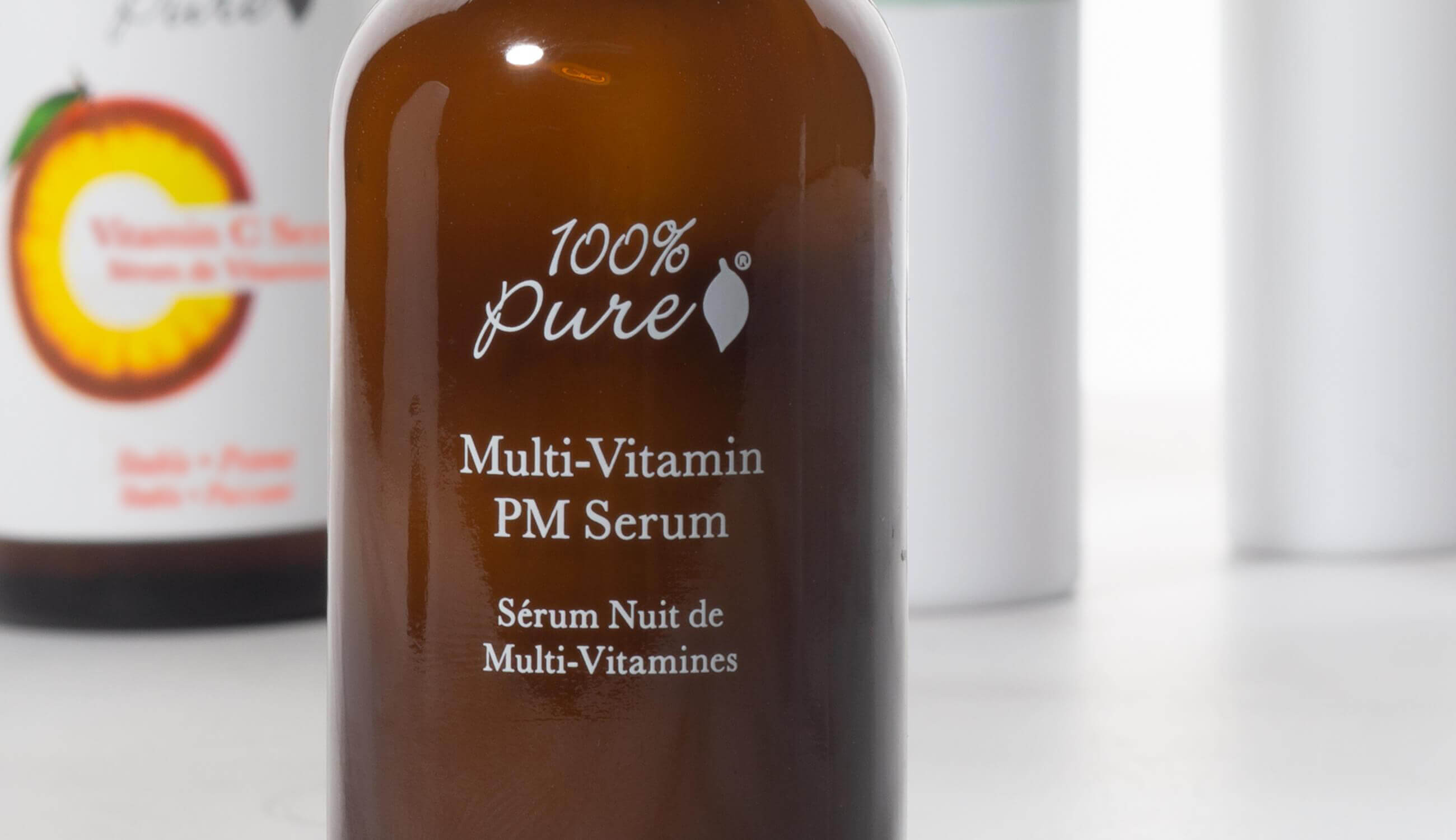 SKIN TYPES: All skin types – especially aging, dull, or acne-prone
Key Ingredients: Vitamin C, Retinol, Niacinamide
When to Use It:🌙
Perhaps the most potent anti-aging serum you'll find, this ultra concentrated concoction has definitely earned its name. Potent dosages of 10% vitamin C, 10% niacinamide, 10% vitamin E, 1% retinol, and 1% CoQ10 are all packed into each little bottle.
This nighttime formulation is designed to moisturize, brighten your complexion, fade dark/ age/ sun spots, increase suppleness, minimize the appearance of pores, support collagen and elastin production, firm skin, and lessen fine lines and wrinkles. Whew! Last but not least, retinol promotes cellular turnover to reveal fresh, more youthful layers of skin when you awake. Scented with purifying essential oils of grapefruit, bergamot citrus, and sweet orange.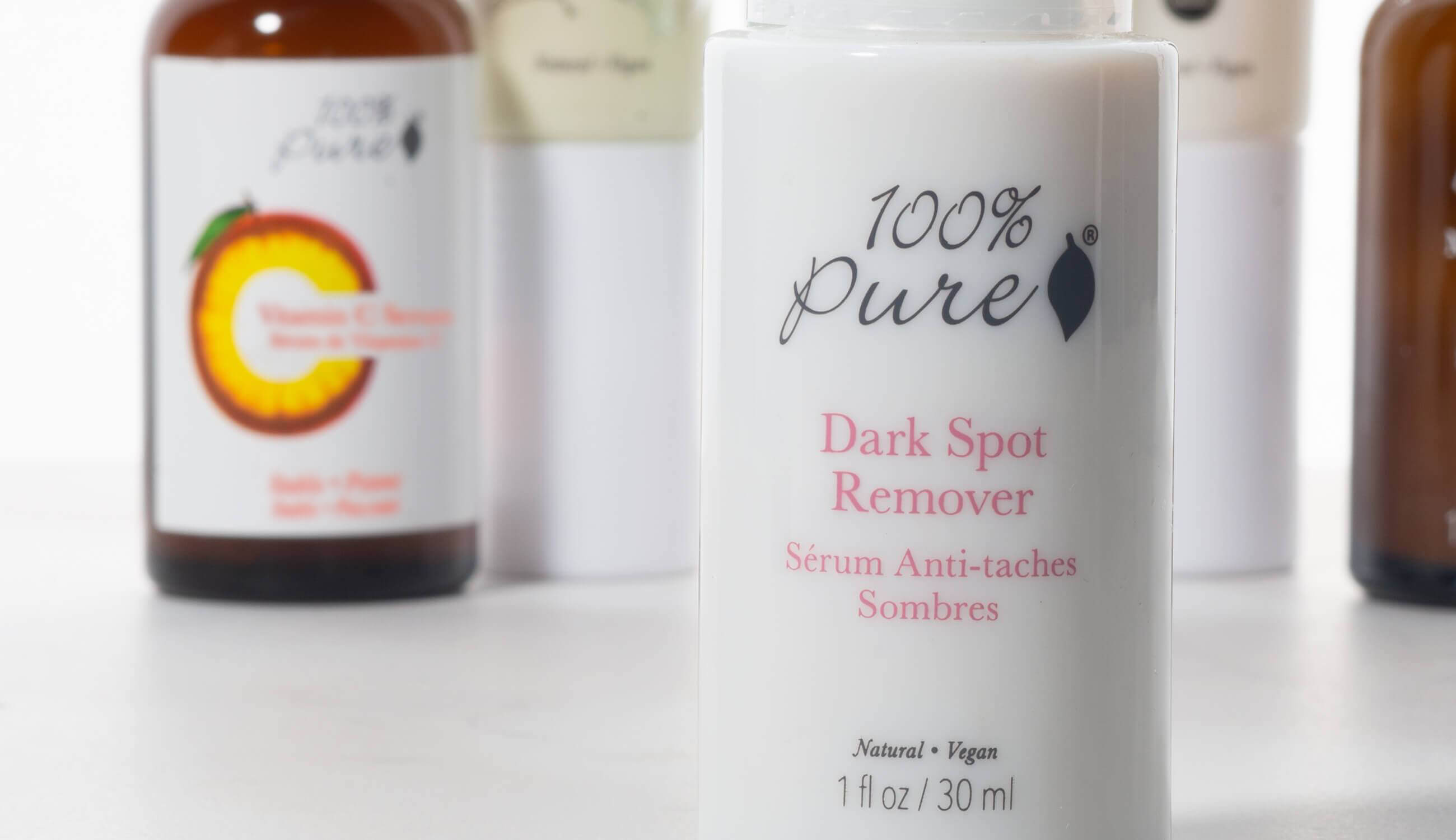 SKIN TYPES: All skin types – especially beneficial for hyperpigmentation
Key Ingredients: Bayberry, Matsutake Mushroom, Lime
When to Use It:🌙
This dark spot treatment is designed to target hyperpigmentation in your skin – specifically for those with sun spots, age spots, and melasma. It utilizes melanin-regulating ingredients to balance the production of pigment in the skin: sake, bayberry, matsutake mushroom, and licorice. Gentle fruit acids from lime and papaya lightly exfoliate and resurface the skin, to break down layers of darkly pigmented skin.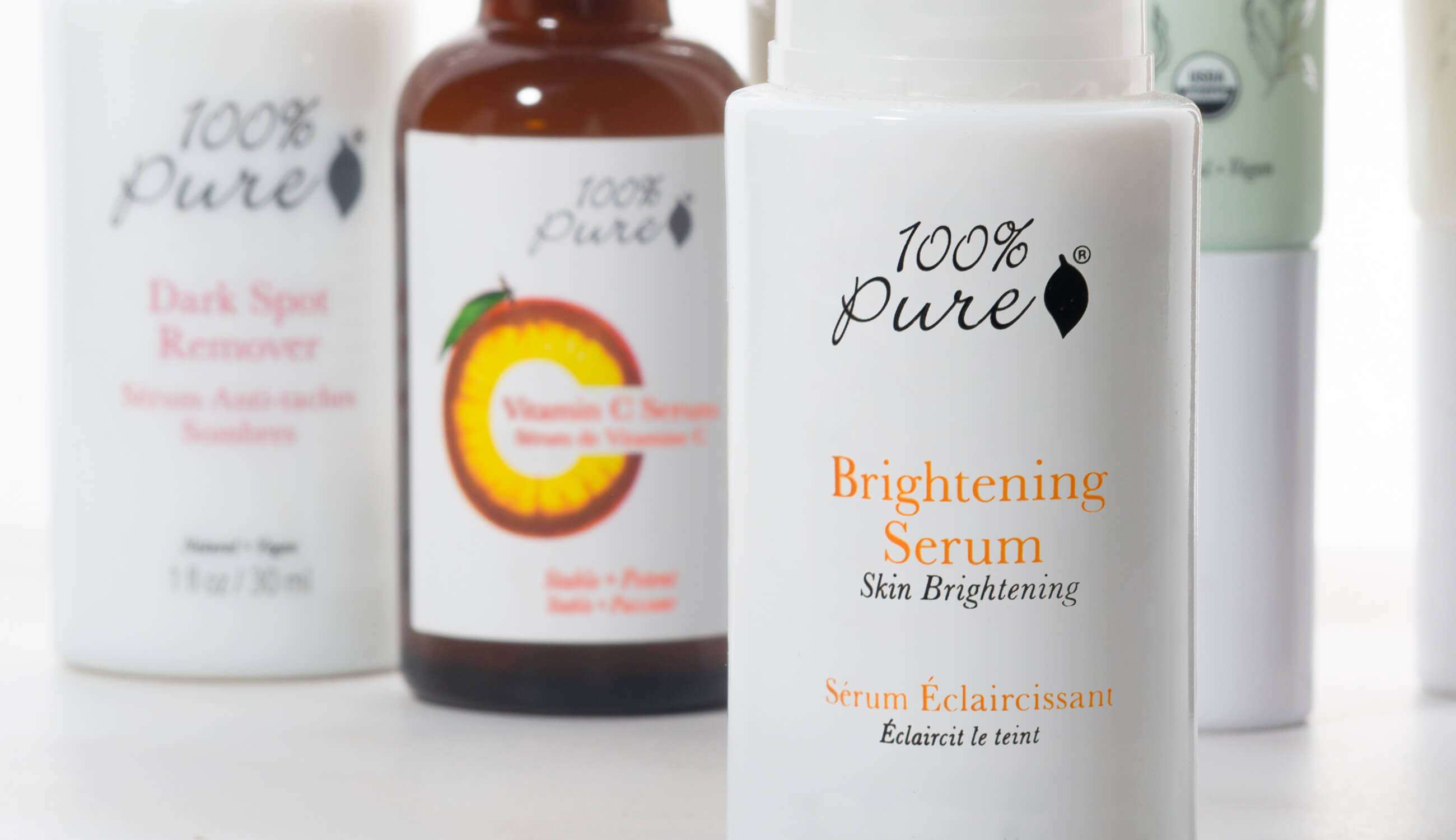 Brightening Serum
SKIN TYPES: All skin types – especially dull or aging
Key Ingredients: Rose, Lemon Juice, Kojic Acid
When to Use It:🌙
Like its daytime counterpart, the Fermented Rice Water Serum, this PM formula uses sake as a main ingredient to lighten and brighten the skin. Aloe and rose help to soothe, hydrate, and replenish. Gentle fruit acids from lemon, cranberry, and pink grapefruit reduce excess oil and gently resurface dull, lackluster skin.
Infused with collagen-boosting vitamin C and sake, this PM brightening serum is designed to rejuvenate your skin's texture and tone while you sleep. This serum isn't scented with essential oils, but is lightly scented by the citrus fruits present in the formula.
We carefully hand-select products based on strict purity standards, and only recommend products we feel meet this criteria. 100% PURE™ may earn a small commission for products purchased through affiliate links.
The information in this article is for educational use, and not intended to substitute professional medical advice, diagnosis, or treatment and should not be used as such.