Black Tea Vs. Green Tea Benefits
The perks of black tea, and green tea benefits for skin – plus the best products to find them for glowing skin!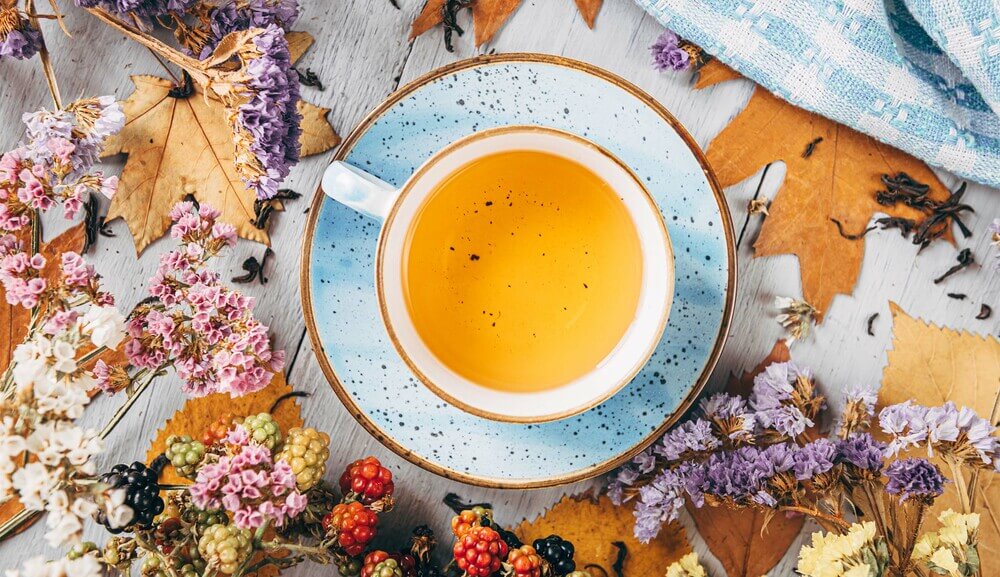 Want a natural, healthy, anti-aging ingredient? Here's a hint: this powerhouse might already be stashed in your kitchen!
We're talking about everyone's favorite plant-based drink. Turns out that tea has way more to offer than just being refreshing, energizing, and iced. Who doesn't want a healthier body and clearer, brighter skin?
We're ready to spill the tea on all the natural green tea benefits as well as black tea benefits for skin and the body. Plus, we'll help you find the best products with our quali-tea ingredients using the best of both caffeine worlds for gorgeous skin.
Green Tea Benefits for Health
Green tea benefits definitely go more than skin-deep. Along with simply tasting great, green tea benefits include lower cholesterol and better-regulated insulin levels. Known as one of the healthiest drink options, it's a classic beverage enjoyed hot or cold. It can help with energy, balancing our diet, and supporting healthy weight loss.
Green tea contains a naturally occurring component called catechins. This is what green tea derives its antioxidant qualities from. Because catechins have been studied and shown to positively impact the metabolism, it's said that regularly enjoying green tea helps people to maintain a healthy weight.
One of the most exciting benefits of green tea is the link between this diet-friendly drink and improved brain function. Studies have shown that regularly consuming green tea is a beneficial tool in reducing the risk of memory dysfunction. Severe degenerative disorders like Alzheimer's and Parkinson's disease showed fewer markers in those with higher catechin compounds, which is a great indicator of long-lasting memory, health, and longevity.
The health benefits don't stop there. Because green tea is an antioxidant, this helps to reduce the free radicals that cause aging and malfunction in our bodies.
With regard to cancer, because antioxidant-rich green tea helps to protect against developing these kinds of cells, regularly consuming green tea comes with a lowered risk of cancer. Even if that were the only green tea benefit, we'd still be more than willing to enjoy this heart-healthy beverage!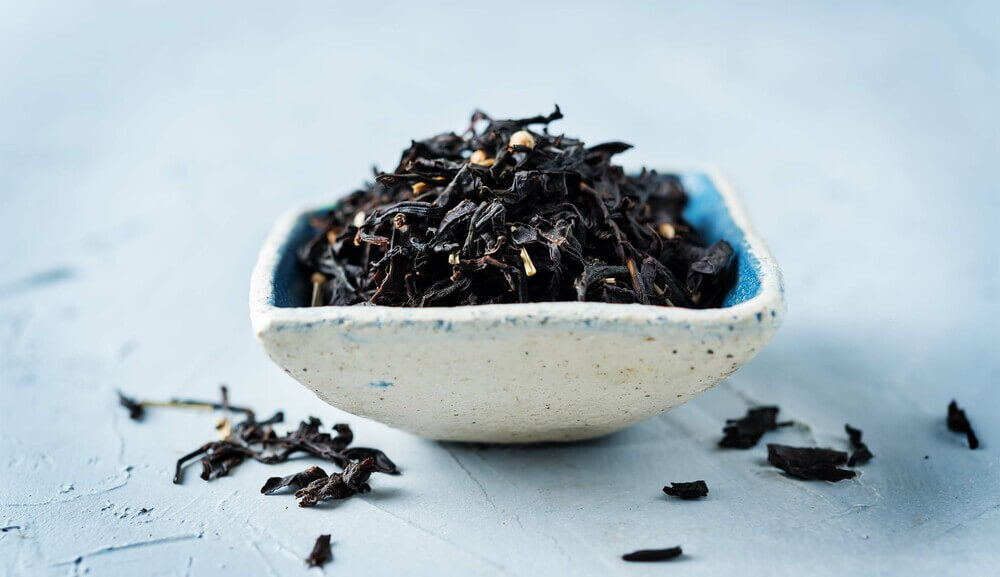 Black Tea Benefits for Health
It's time for these two teas to face off. How do they compare? Well, first it should be known that technically, they're the same plant. The color, flavor, and benefits of these teas come from when they're harvested, how they're processed, and how they're used.
Like green tea, black tea is an antioxidant that helps to reduce the oxidation of our cells. That's beneficial in diminishing the risk of certain cancers. Black tea is great for the heart and blood pressure as well, similar to green tea. However, in addition to that, black tea also helps to reduce the risk of stroke.
We mentioned before that green tea has been studied to show that it's extremely beneficial in the evolving study of neurodegenerative disorders. Black tea, along with its aminos and caffeine content, can help boost brain function.
Another big bonus is that, because black tea contains caffeine, it's a great way to boost our energy without being too strong or causing coffee jitters. It provides subtle, lasting energy that keeps the brain as sharp as our perfectly imperfect winged liner. As black tea is helpful for diet, metabolism, regulated insulin, and better blood pressure, as well, it's clear that black tea is definitely a worthy adversary for green tea in this tea face-off.
The Verdict: Which One is Better for Health?
Here's the final stack:
Green Tea:
Antioxidant
Heart-healthy
Improves cholesterol
Supports healthy digestion and weight loss
Can help regulate blood sugar
Reduces the risk of cancer
Supports regulated blood pressure
Reduces the risk of neurological issues
Black Tea:
Antioxidant
Heart-healthy
Improves cholesterol
Can help regulate blood sugar
Reduces the risk of cancer
Improves blood pressure
Diminishes risk of a stroke
Improved brain function and mental clarity
This may be obvious, but after taking a look and really comparing the two…they're both just too similar and beneficial to confirm an ultimate winner. That means that either way, we can enjoy tea and know that with consistency, this beverage can have a beautifully positive impact on our bodies. Maybe looking a bit closer at some of the black tea and green tea benefits for skin can help us decide.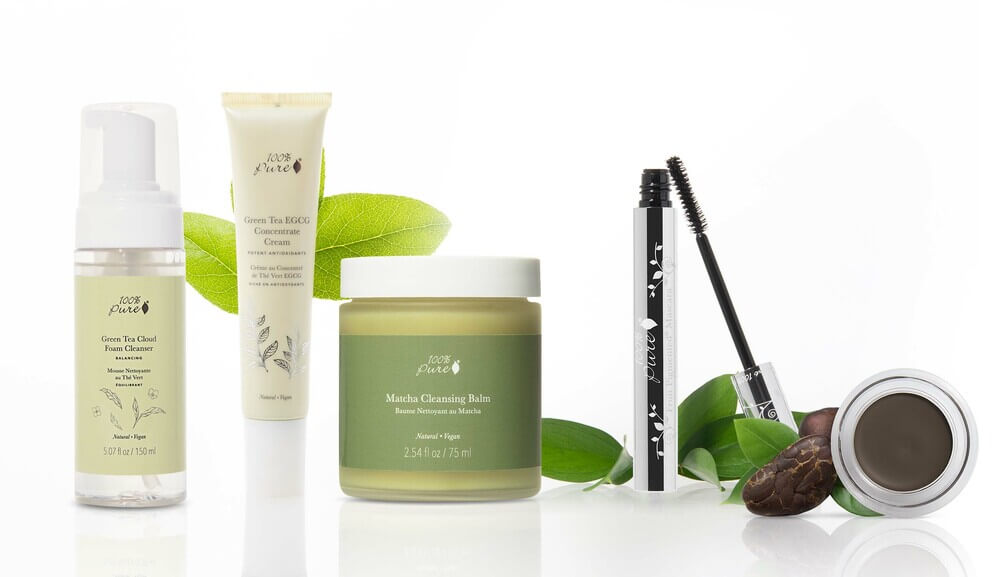 Green Tea Benefits for Skin
Any 100% PURE fans can probably guess how much we love green tea for skin, especially because the green tea benefits for skin are so potent! We've mentioned before how it's antibacterial and brightening, but let's go a bit deeper.
Green tea contains something called polyphenols. This comes with the antioxidant territory. However, the benefits of this are definitely worth hearing about.
Polyphenols are excellent at defending the skin against UV damage. So, in a sense, incorporating a green tea product into our routine can help to promote a reduced risk of skin cancer and sun damage. Plus, the antioxidants also help to reduce the signs of aging! Using a green tea SPF or face cream is a great way to layer on the sun protection.
Along with all those benefits, green tea has a few more up its sleeve. There's a compound in green tea called epigallocatechin. It's also referred to as EGCG. This ingredient is seriously calming and anti-inflammatory. It is able to reduce bacteria and balance sebum in the skin for a more neutral skin type. Regular use of EGCG products can help with clearer skin, an inner glow, and natural skin radiance.
Green tea benefits skin by bringing its antibacterial and antimicrobial properties to skin care. This allows excess oiliness in skin to be reduced, acne to be diminished, and any inflammation to die down. But what we love most of all is how the antioxidant quality of this ingredient leads to a brighter complexion while supporting anti-aging benefits for the skin.
We're ready to slather this stuff all over us, and we're already looking for ways to add a green tea face mask or green tea serum into our routine. But before we get ahead of ourselves, maybe black tea will take the prize after all?
Black Tea Benefits for Skin
Right away, we can think of one major benefit of black tea. This lovely ingredient is not only wholesome but versatile. It makes an excellent saturated, high-quality, pigmented dye for products like liquid eyeliner and enriching, lengthening mascara.
Just as protective against harmful sun rays as green tea fohttps://www.100percentpure.com.sg/ultra-lengthening-mascara/r skin, blhttps://www.100percentpure.com.sg/ultra-lengthening-mascara/ack tea is specifically known to brighten the skin. The caffeine in tea helps to reduce puffiness and dark circles.
Plus, the antioxidants in this ingredient support regeneration of skin cells for reduced discoloration. That means black tea is an anti-aging trifecta. It promotes the improvement of skin appearance, clarity, and texture.
The Verdict: Which One is Better for Skin?
Here's the final stack:
Green Tea:
Antibacterial
Fights aging
UV protectant
Balancing
Anti-inflammatory
Black Tea:
Rejuvenates skin
Brightening and toning
Reduces eye puffiness
Fights aging
UV protectant
Anti-inflammatory
When it comes to diet, you really can't go wrong with either green or black tea. But in the case of skin care, green tea for skin seems to be taking the lead. This natural ingredient helps to fight sun damage, support balanced sebum in the skin, and fight aging and acne – in a way that's gentle on skin.
The question is, now that we've spilled the tea on this powerful skin care ingredient, what green tea or black tea products should we whip up next?! We're glad to put that question out there because we've been showing green tea products plenty of Tea-LC that it's time to spotlight some of our new black tea products!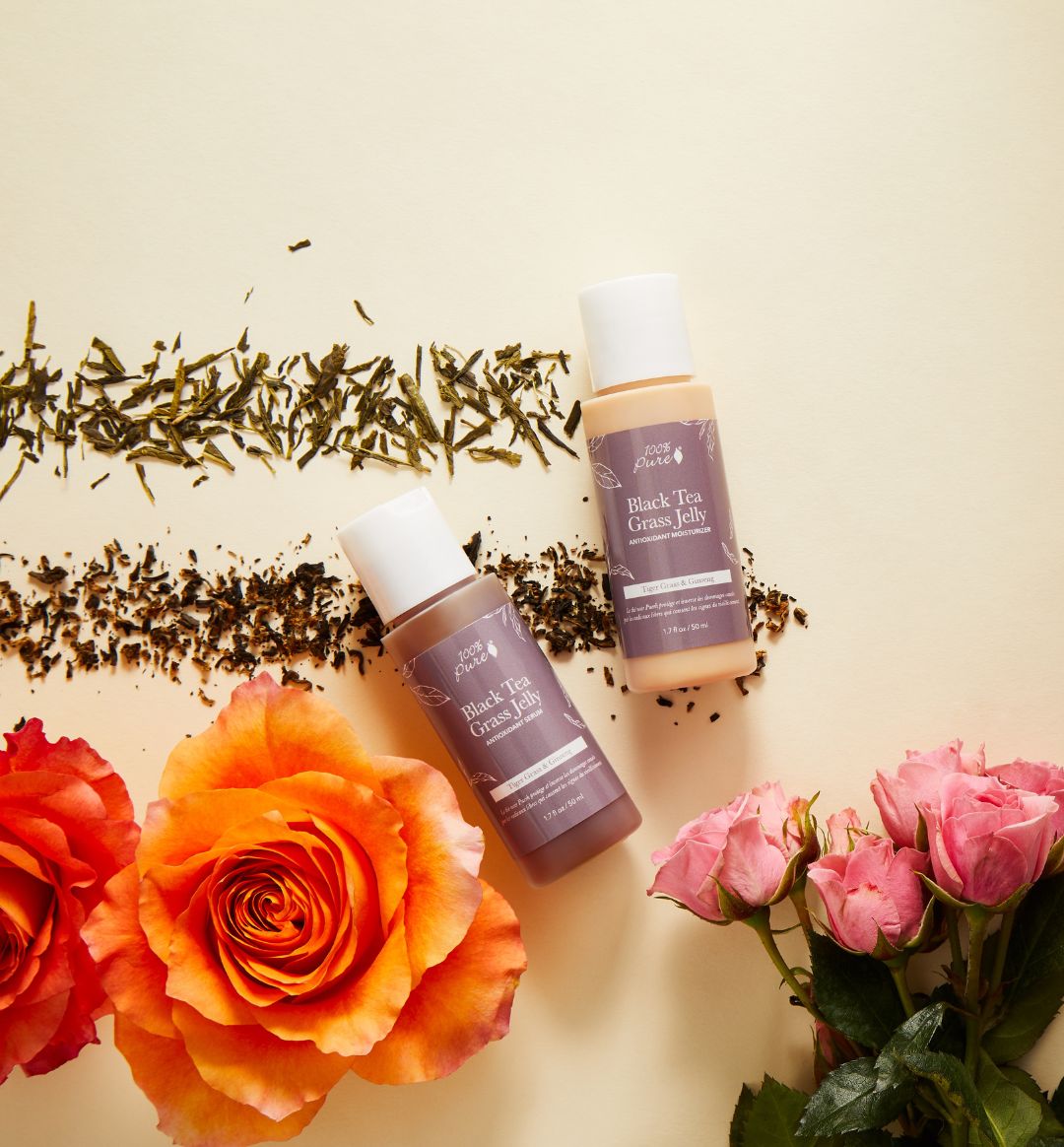 We love all-star antioxidants and the brew-tiful benefits of black tea. So, why not come up with a dynamic duo featuring both of these skin powerhouses? That's exactly what we did with our new Black Tea Grass Jelly Antioxidant Serum and Black Tea Grass Jelly Antioxidant Moisturizer.
These anti-aging holy grails inhibit UV damage, promote skin repair, support anti-aging efforts, and promote more balanced, happier skin overall. Check out more tea-licious reasons why your skin is going to drink these up:
Black Tea Grass Jelly Antioxidant Serum
Formulated with Pure Black Tea Leaves, this serum is packed with antioxidants that protect skin from free radicals and is skin plumping and firming with an anti-aging effect. The quick-absorbing, formula hydrates and nourishes, prepping your skin for perfect makeup application.
Key Benefits:
Concentrated with protective antioxidants
Protects against and reverses damage from free radicals that cause signs of aging
Reparative
Hydrating
Soothing
Skin plumping and firming
Anti-inflammatory, soothes
Promotes collagen production
Key Ingredients:
Black Tea Leaves: Blocks, repairs skin from environmental damage
EGCG: Anti-aging
Sodium Hyaluronate: Locks in hydration
Bakuchiol Oil: Retinol alternative
Rose Hydrosol: Soothing
Polyglutamic Acid: Rich in probiotics, plumps skin
Black Tea Grass Jelly Antioxidant Moisturizer
Black Tea and Grass Jelly effectively soothe the skin while also providing intense protection against free radicals. Formulated to sink deep into the skin, this moisturizer combats signs of aging by nourishing skin with powerful hydration and beneficial antioxidants so skin looks firmer, brighter, and more youthfully radiant.
Key Benefits:
Features protective antioxidants
Helps reverse sun damage from free radicals
Reparative
Moisturizing
Soothing
Skin plumping and firming
Anti-inflammatory
Promotes collagen production
Key Ingredients:
Pure Black Tea Leaves: potent age correcting properties
EGCG: active ingredient in tea that is reparative
Sodium Hyaluronate: locks in hydration
Bakuchiol Oil: plant alternative to retinol
Rose Hydrosol: soothing
Polyglutamic Acid: plumps skin surface to visibly lessen lines and wrinkles
So, what's the final verdict? Take care of all the aspects of your mind, body, and soul that make you, you. The more you adopt a better health and skin care regimen, the healthier you'll be inside and out. The benefits of green and black teas are both good for the body, soul, and skin. Hopefully, our new black tea skin care beauties will point you in the right direction for fall and beyond! Sip, sip, hooray!
We carefully hand-select products based on strict purity standards, and only recommend products we feel meet this criteria. 100% PURE™ may earn a small commission for products purchased through affiliate links.
The information in this article is for educational use, and not intended to substitute professional medical advice, diagnosis, or treatment and should not be used as such.