Bakuchiol for acne: How it can help clear up your skin
Nature's Alternative to Retinol: The Benefits of Bakuchiol for Acne-Prone Skin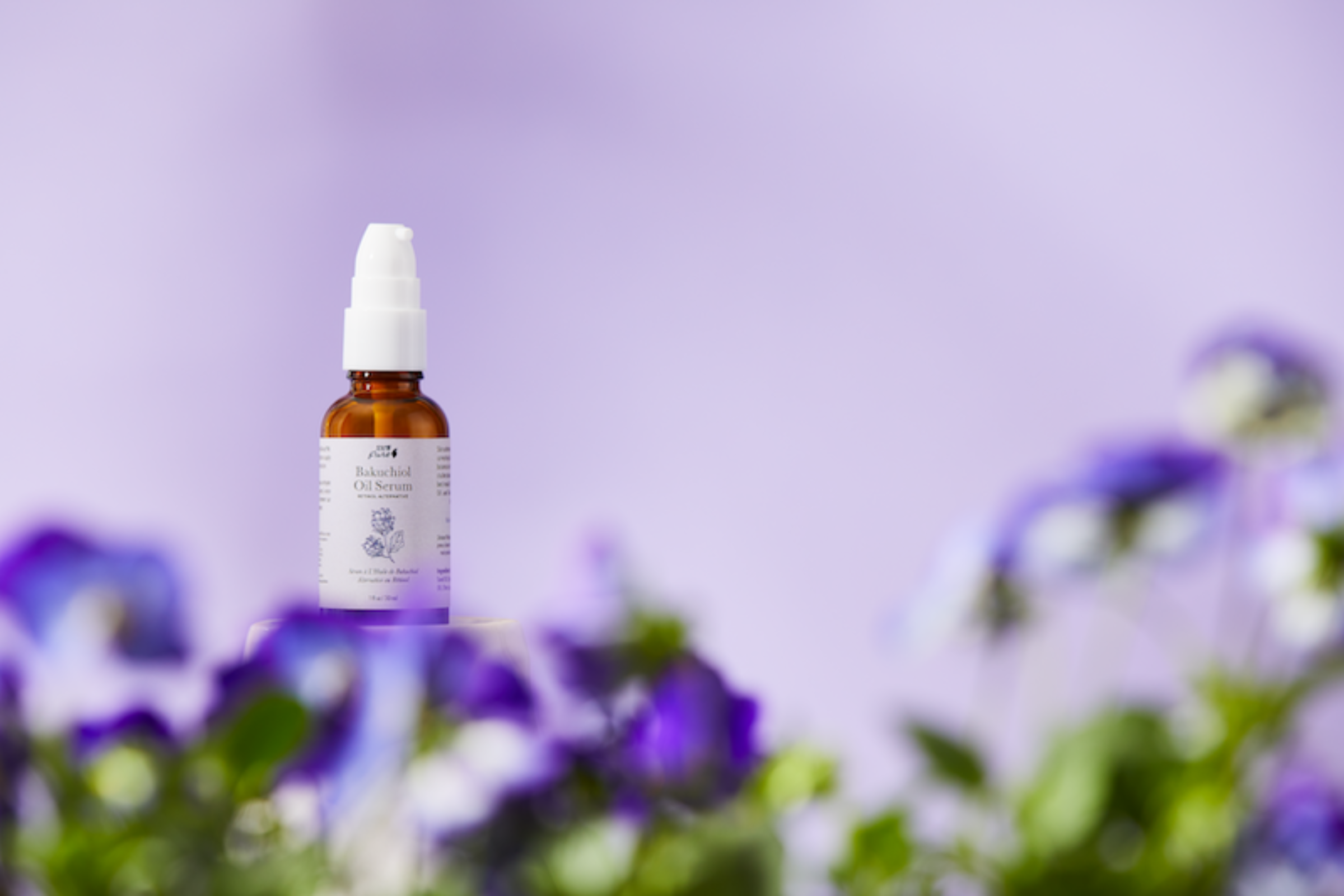 It's tough to argue against the benefits of retinol, whether it's for reversing sun damage, fading fine lines and wrinkles, or clearing up acne. Even better: retinol has considerable amounts of research to back up the benefits it's known for.
All the same, retinol comes with its downside, particularly when it comes to side effects. Peeling and burning are almost to be expected in many cases, and it's also not recommended for those who are pregnant or breastfeeding.
Needless to say that bakuchiol has made headway as a retinol alternative–not only for wrinkle care but for acne, as well.
Could bakuchiol be the next holy grail for acne-prone skin? This article is here to help you find out.
What Is Bakuchiol?
Found in the leaves and seeds of the Psoralea corylifolia plant, bakuchiol has recently been reported as a "retinol-alternative;" and with all of the potential side effects that retinol is known for, this makes it a welcome staple in many skincare routines.
When it comes to using retinol, two of the most common side effects include the potential to cause discomfort and irritation. On top of that, retinol products are often made in a relatively unstable formula and tend to have shorter shelf lives. As a result, scientific experts and marketers alike have been searching for alternatives in skincare for quite some time–something that can provide the benefits of retinol without its undesirable effects and instability.
Bakuchiol has demonstrated efficacy in skincare functions that are usually associated with retinoids such as retinol, retinal, and Retinoic acid; such functions include clearing acne, fading hyperpigmentation, and diminishing signs of aging. While the results of one FDA-conducted study set out to compare retinol and bakuchiol head-to-head remain to be anticipated, surrounding studies have shown great promise.
For instance, one trial observing a blend of bakuchiol, melatonin, and vitamin C over 12 weeks found that participants had fewer wrinkles, firmer skin, and an overall improved appearance in complexion.
And in one small study from the British Journal of Dermatology, bakuchiol was found to be just as efficacious as retinol for fading fine lines, but with far less burning and peeling.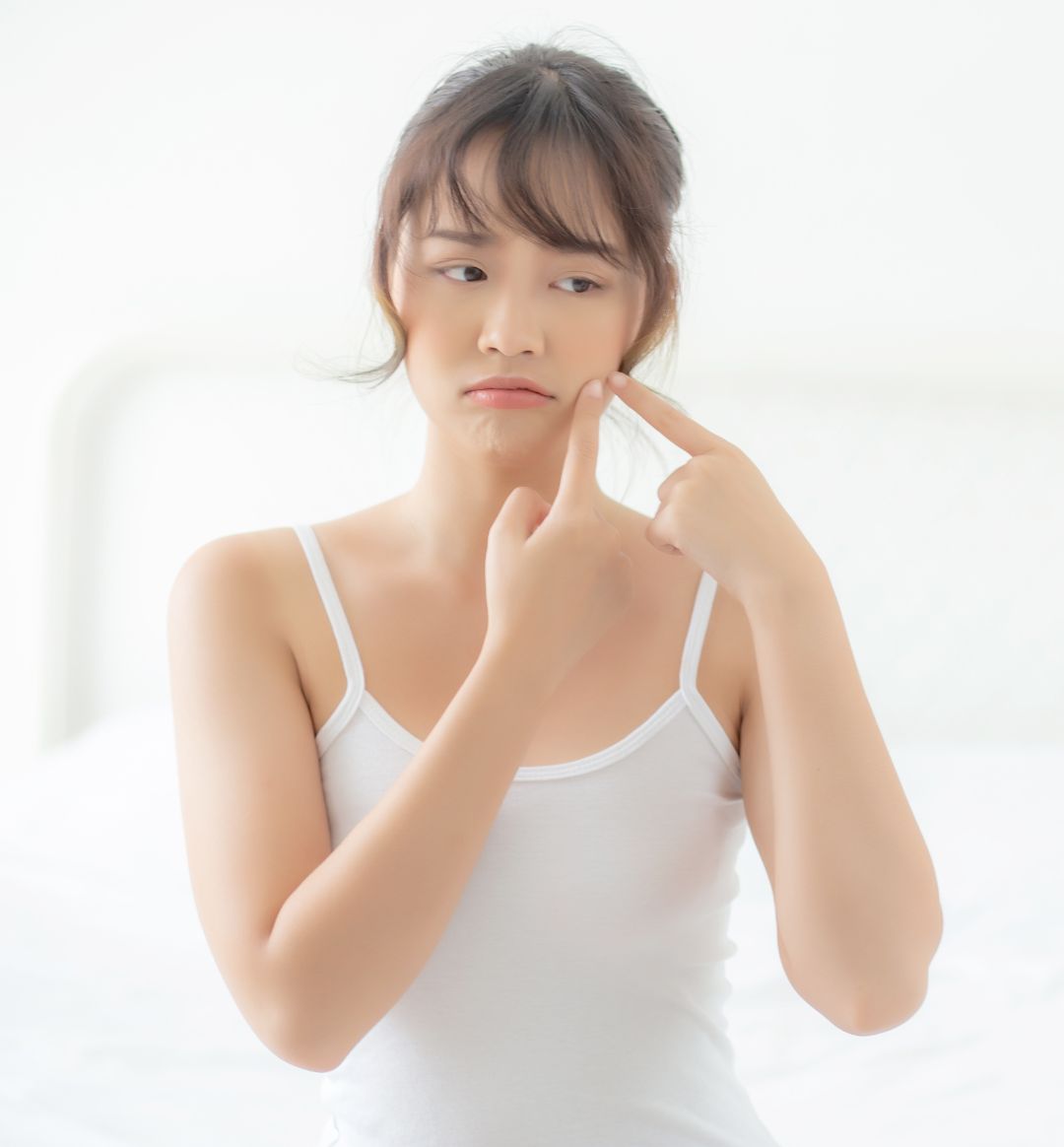 Benefits of Bakuchiol for Acne-Prone Skin
Bakuchiol's main plant source, Psoralea corylifolia, has a long rap sheet when it comes to skincare, dating back centuries in Eastern medicine. In the modern age, the extract known as bakuchiol has been garnering interest from medical experts for a myriad of reasons.
For starters, bakuchiol has been shown to possess both antioxidant and anti-inflammatory properties, along with antibacterial properties. This is great news for your skincare regimen because it means that bakuchiol has the potential to protect skin from not only oxidative stress caused by free radicals, but inflammation, as well. And as most experts will tell you, inflammation is one of the root causes of acne.
Bakuchiol may also have the power to reduce oil production in the skin. Oily skin is the result of sebaceous glands in the skin producing too much sebum–whether caused by a reaction to a drying product, or even genetics or hormones.
While it's been suggested by some that bakuchiol can keep oil levels in check, many ingredients can be used to manage oily skin. It can also help to gently exfoliate the skin so that the pores can properly clear out. We recommend an enzyme exfoliant, which gently sloughs away dead skin and sebum. Tea tree oil can also do wonders for oily skin since it's both anti-inflammatory and antifungal, and you can find it in our Tea Tree Deep Detox Mask.
As we can see, bakuchiol can offer benefits to acne-prone skin in several ways, and it gets better: it may even help with acne scars.
In the case of superficial acne, scars tend to fade away evenly. But in the case of cystic acne, ruptured cysts have a higher chance of damaging the follicle wall, which can make inflammation worse.
Some research has shown that the application of bakuchiol on the skin can reduce lesions while improving post-inflammatory hyperpigmentation (PIH). This means clearer, smoother skin in a shorter period.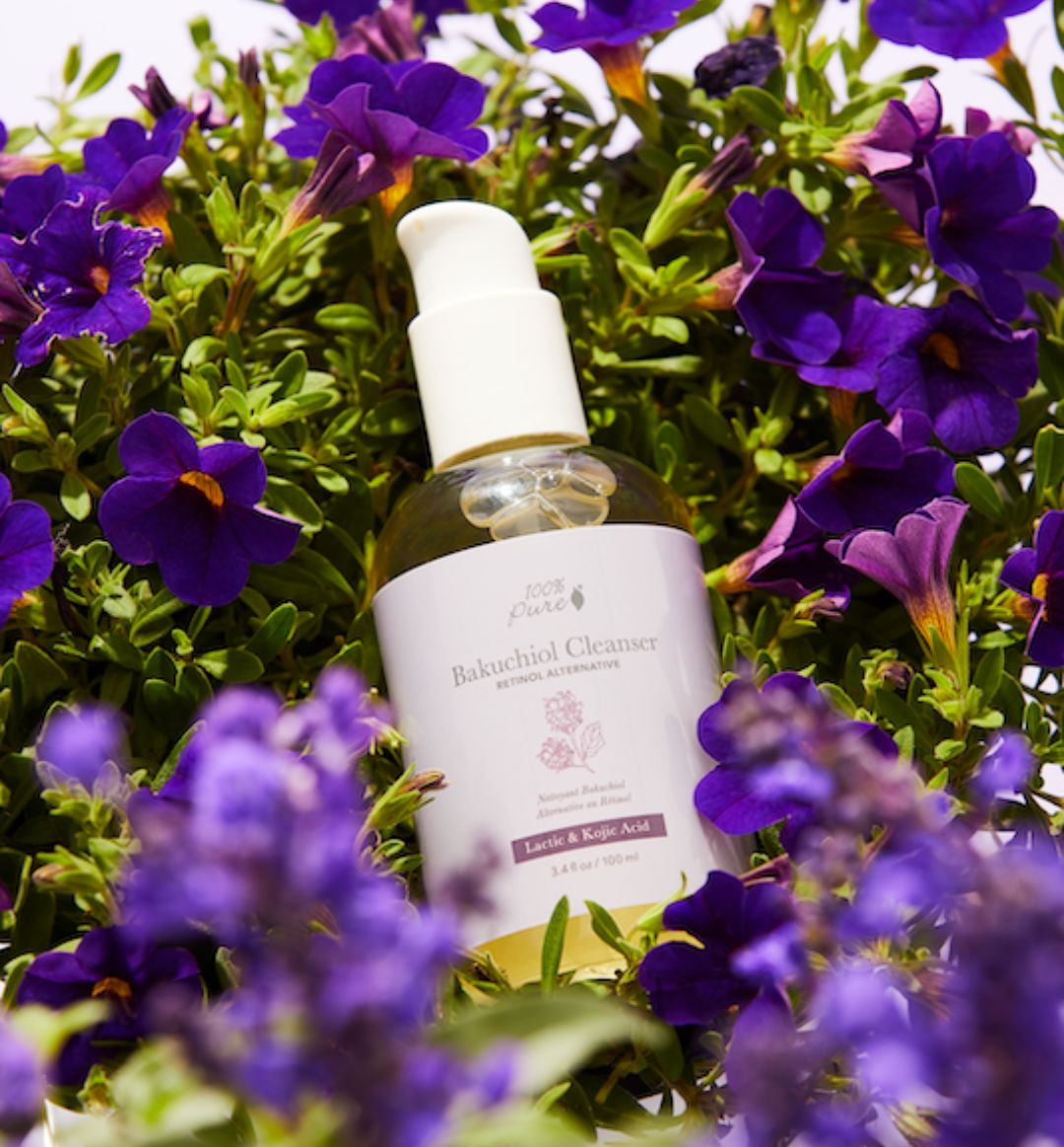 How to Incorporate Bakuchiol into Your Skincare Routine
If the benefits of bakuchiol for acne already sound great, let's pile on even more good news: it's easy to incorporate into your skincare routine!
While bakuchiol has been shown to cause few side effects, it's recommended for all actives that you start using a little at a time, typically 1-2 times per week. Generally, bakuchiol works best when used in the evening so that it can support skin repair while you rest.
Bakuchiol is available in a wide range of different products, and at 100% PURE, you'll find the following:
For Irritated Skin: Bakuchiol Cleanser
This gentle yet powerful cleanser provides a safer and more natural alternative to Retinol to stimulate cellular turnover for a smoother, clearer complexion.
For Dehydrated Skin: Bakuchiol Moisturizer
This softening, hydrating moisturizer is made with the proven percentage of Bakuchiol in clinical studies for the best results.
For Oily Skin: Bakuchiol Oil Serum
This facial oil offers all of the corrective benefits of bakuchiol, combined with nourishing ingredients like squalane, sunflower oil, and jojoba oil.
For Dullness: 18.3% Active Ingredients Vitamin C Glow Max Bright Mask
This supercharged treatment combines CoQ10 with Vitamin E and bakuchiol to transform and deliver vibrancy to the skin for a healthy glow.
Bakuchiol for Acne: Final Thoughts
While bakuchiol doesn't tout the stacks of research you get with its counterpart retinol, there's been growing evidence supporting its benefits, and this includes acne.
Besides calming down inflammation, bakuchiol may also have the power to fade acne scars and manage oiliness in the skin. Best of all, bakuchiol is known to show few side effects, making it a snap to incorporate into your skincare routine. That being said, it's always best to incorporate any kind of new product slowly.
We carefully hand-select products based on strict purity standards, and only recommend products we feel meet this criteria. 100% PURE™ may earn a small commission for products purchased through affiliate links.
The information in this article is for educational use, and not intended to substitute professional medical advice, diagnosis, or treatment and should not be used as such.